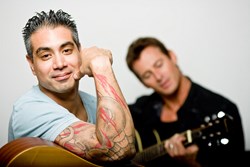 From your very first lesson I will have you jammin'.
Miami, Fl (PRWEB) August 01, 2013
As children prepare for the start of school in several weeks, they will be influenced by a number of adults at their school in both positive and negative ways. Dyce Kimura hopes to be a positive influence in the lives of students and wants to share his passion for music with children and adults alike. He is offering back to school lessons in voice and guitar. He is a Skype guitar teacher who seeks to share his musical gifts and abilities through private online lessons. He offers beginner guitar, electric guitar, and acoustic Skype guitar lessons. His approach to teaching music is unique from that of every other teacher's. He believes that anyone with the desire to learn how to play the guitar can learn. Dyce encourages his students to practice and discipline themselves in order to improve their musical abilities, which are valuable life skills. His personal goal is to have students play with authority on the guitar, which encompasses skills that include ear training, improvisation, and learning how to musically interpret songs.
With each new student that signs up for lessons, Skype guitar teacher Dyce begins by getting to know them - what styles of music they want to learn to play, what their favorite songs are, and why they've chosen to play the guitar. He seeks to teach them in a way that they can best understand according to their learning style and interests. He begins by teaching the fundamentals and progresses to helping students learn how to play the songs and styles that they want to learn as quickly as possible. He coaches one-on-one through skype guitar lessons in order to focus on improving each student's abilities, instead of having to help each student for a shorter amount of time during a group lesson.
Dyce will have his students playing guitar from the first lesson, beginning with basic chords, before moving on to learning power chords and putting chords together to form songs. Within the first few months of lessons, Dyce's students will learn some basic improvising and soloing techniques as well. Dyce doesn't rush students through lessons; instead, he allows them to work at their own pace and teaches them according to the speed they are comfortable at. He values their opinion and input because he wants to teach them in the best way that they will understand; consequently, he tailors lessons according to pace and skill level for the individual student.
Dyce give lessons to students all around the world thru the internet. He sums up his teaching method when he says, "From your first lesson, I will have you playing. And, I will inspire you to keep on playing. The guitar is not an easy instrument to play; but if you aspire to be an accomplished player; I can get you there." As the new school year quickly approaches, consider signing yourself or your child up for guitar lessons! For more information, visit http://www.skypeguitarlessonsonline.com/ or call 786-457-3687.