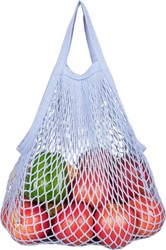 Ossining, NY (PRWEB) August 13, 2013
We already love all the ECOBAGS® collection of String Bags™ - the only thing that could make the collection better is adding more variety of color choice - and that is what Eco-Bags Products, Inc. has done.
The organic string bag™, used in Europe for generations is perfect for all your shopping needs - whether buying fruits and veggies, breads, flowers, or wine - as well as your go to beach or travel bag - is now available in three more refreshing colors. The colors include a relaxing lavender, an energizing fern, and a cooling robin's egg. These three new vibrant colors increase the consumer choice to a market leading 20+ color options. And better yet, the meadow collection is made of 100% natural certified organic non-GMO cotton and dyed with lead free dyes - it is both ethically produced and recyclable.
The organic string bag™ is available in both a tote handle and a longer handle that fits perfectly and comfortably over the shoulder. The string bag™ is easy and compact to carry; lightweight and expandable; recyclable as a textile; fair wage and fair labor certified; durable - holds up to 40 lbs; and is eco-friendly. So take it to the beach, to your yoga class, the grocers, or the farmers market.
The organic string bag™ meadow collection is available online at http://www.ecobags.com or through retailers nationwide.
About Eco-Bags Products, Inc.:
ECOBAGS® , The ECOBAGS Logo, String Bag™ are trademarks of Eco-Bags Products, Inc. Eco-Bags Products Inc, is a certified B-Corporation. Sharon Rowe, CEO & Founder, is a 20+ year leader in the reusable bag space and kick-started the reusable bag movement in the U.S. in 1989.