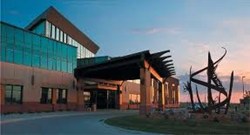 I wrote Leave of Absence to provide opportunities for meaningful conversations that will increase understanding.
Sioux Falls, SD (PRWEB) August 06, 2013
When members of the administration of Avera Behavioral Health Center in Sioux Falls, SD read Leave of Absence by Tanya J. Peterson, MS, NCC, they invited her to speak. On August 9, 2013, Peterson will travel to Avera BHC to discuss mental illness, behavioral health hospitals, and the power of fiction.
Leave of Absence, a novel about schizophrenia, post-traumatic stress disorder, grief and loss, as well as the healing power of human connection, takes place largely in a behavioral health center (hospital). This setting is of interest to the administrators of Avera, and it was depicted with such accuracy that they asked Peterson to speak with their staff.
Psychiatrists, staff members, and some visiting medical students from the University of South Dakota will gather to hear Peterson speak and to engage in a discussion session with her. The topics will include factual information about mental illness and its impact on lives as well as the stigma associated with not only mental illness but with behavioral health centers. Thomas L. Otten, director of Avera Behavioral Health Services Inpatient Services suggested these topics as they "are critical for us to keep in mind."
The discussion will also focus on Peterson's novel Leave of Absence. Because of its accuracy and relevancy, the novel will be used by a book club that is part of one of the units in the Avera Behavioral Health Center. Says Peterson, "This is why I wrote Leave of Absence. Fiction provides opportunities for conversations—meaningful conversations that will increase understanding."
During Peterson's visit with Avera Behavioral Health Center personnel, the topic will undoubtedly turn personal. When discussing behavioral health centers and the stigma associated with them, Peterson has a unique perspective. With a Master of Science degree in counseling, she understands why they exist and what they do. With personal experience, she understands what they're like from a patient's perspective. In fact, the accuracy of her depiction of Airhaven in Leave of Absence is due to the times she was a patient herself in such a health center. Of course Airhaven in the novel is completely fictitious; however, some of Peterson's descriptions are very loosely based on the hospital in which she stayed. That hospital? Avera Behavioral Health Center in Sioux Falls.
Prior to leaving South Dakota and returning to Oregon, Peterson will make an appearance at the mall in Watertown. She will be signing copies of her novel Leave of Absence on Saturday, August 10 from 1:00-3:00 PM. Keep track of her events and more on Facebook.