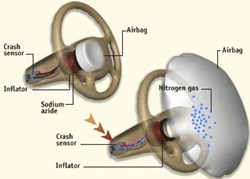 "Think of a string that is attached to mouse, that is attracted to cheese on the other end, that is rigged to explode with the tiniest touch of a nose when that string is pulled. That's your airbag system in a nutshell". Author
La Mesa, CA (PRWEB) August 07, 2013
Airbags deploy at speeds north of two hundred MPH - that's five hundredths of a second to full deployment - if everything goes according to Hoyle.
Think of a string that is attached to a mouse that is attracted to cheese on the other end that is rigged to explode with the tiniest touch of a nose when that string is pulled. Mouse gets there too early - cheese goes off and blows the poor mouse to kingdom come-too late, and our mouse is smothered in cheese. That's pretty much what will happen if airbag deployment is premature or delayed, except broken necks, bruised eyes, and fractured noses are the real life outcomes in the actual scenario.
So on to counterfeit airbags. Counterfeit is such a powerful adjective. Without scrutiny, this charge is likely to be accepted as fact. It is, however, undoubted that imitation, counterfeit, knockoff, or fake, auto parts have been flooding in from China for some time now, and nary a peep from the NHTSA until now. So, what's the flap about?
Well, for one thing, these airbags have fake insignias on them, so it isn't always possible to tell that they are fake or substandard. They are also unlikely to work at all-and have been known to explode and ignite when tested.
However, a far more prevalent cause of airbag malfunction is a faulty reset procedure as part of a repair. Sensors linked to computers tell the bags when to go off, but not when computer resets haven't been performed correctly.
Standard computers have to be reset occasionally to a restore point antecedent to whatever's hanging them up. If not done correctly, software is likely to be corrupted - time to start over. But airbag systems, unlike ordinary computer systems, don't allow for "do overs."
Elite Auto Collision uses ALLDATA software-the database for repair procedures created by the automaker themselves and always uses only original equipment parts on all airbag repairs.