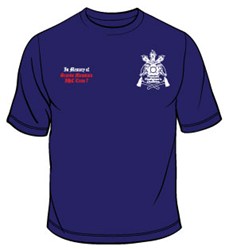 It is an honor for us to give back to our community.
Prescott, AZ (PRWEB) August 07, 2013
WaitStuff Uniforms joins forces with local Prescott, Arizona competitors to supply thousands of printed tee shirts to benefit the families of the 19 fallen heroes of the Yarnell Hill fire on June 30, 2013.
As the tragedy of the Yarnell fire and the loss of nearly the entire Granite Mountain Hotshots crew was unfolding in the early morning of July 1, 2013 the community of Prescott, Arizona and the staff at WaitStuff Uniforms were already taking action to help. In an unlikely collaboration local competing print shops, promotional product companies, uniform companies and their suppliers were able to work together to supply thousands of tee shirts at no cost within days. Virtually all of the local tee shirt companies provided product donations, worked through the night and drove hundreds of miles in an effort to not only produce as much as possible very quickly but to do it at no cost to raise the most possible money for the families.
"It is an honor for us to give back to our community and be a part of the official memorial tee shirt," said Lory Struver, owner of WaitStuff Uniforms.
"It is wonderful to see everyone from businesses and organizations to kids holding car washes to help in any way they can," she added.
These are the only tee shirts officially sanctioned by the Prescott Firefighter's Charities designed with their direct input. Thousands of tee shirts have been sold in and around Prescott and are now available online here. Tee shirt fundraising for the Yarnell Hill fire victims has exploded on the internet. Buyers should inform themselves about the seller, the receiving charity, and the amount of the proceeds going to the charity before they purchase. Prescott Firefighter's Charities is the local organization of the firefighter's so ALL proceeds will go to the Granite Mountain Hotshot memorial fund (for the families).
How You Can Help
Please visit the following websites for information on how you can help.
http://www.prescottffcharities.org/how-you-can-help/
http://www.100club.org/web/100Club
http://www.wffoundation.org/
About WaitStuff Uniforms
WaitStuff Uniforms is a leading supplier of restaurant Uniforms, hotel uniforms and corporate uniforms nation-wide. WaitStuff uniforms offers a comprehensive variety of readymade uniforms as well as custom designs with embroidery or screen printing. WaitStuff Uniforms provides personal service from their corporate headquarters' in Prescott, Arizona to create uniform programs that fit your needs.