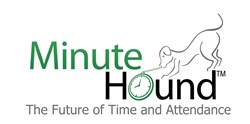 The latest update from MinuteHound ensures no more wait time, delayed starts, or productivity losses due to a bottleneck at the time clock.
New York, NY (PRWEB) August 20, 2013
One of the most needlessly difficult aspects of being a manager is keeping track of your employees' timesheets. There may be times when an employee forgets to hand them in, they may ask a friend to punch their timecard for them, they could take an extra 15 minutes of overtime doing nothing, and all of this statistically costs a company 5 percent of the total payroll each year on average.
A major contributor to this loss of money comes in the form of shift change bottlenecks. Having a strict schedule that relies on the honor system is not only ineffective and prone to error; it slows down the productivity of the workday. In addition, the labor required to keep track of the payroll combined with natural human error only serves to take time and money away from a business. MinuteHound is a company that aims to alleviate the woes of many businesses by offering a simple solution to a big problem through their own time clock software. Biometric Time and Attendance for 2013 answers all the problems associated with time keeping.
The Solution
MinuteHound's solution is a biometric time-keeping system that uses a fingerprint scanner to keep track of an employee's hours. It can be mounted anywhere up to 54-feet away from the computer it's connected to, and employees never have to see the screen or enter additional login information. Absolutely no IT knowledge is required, because the system is designed to be plug-and-play right out of the box.
The latest software automatically records all employee hours and uploads them to a personal web portal; all of this information is stored on the cloud, so you can access vital employee data anytime, anywhere. This data cannot be reverse engineered, because the fingerprint is never actually stored. When an employee clocks-in and clocks-out, the fingerprint gets converted into an encrypted 128-bit number distributed across four secure servers on different continents. It's a patented process that ensures privacy for everyone that uses the system.
Unparalleled Control
Managers also have full control over the schedule through the web portal control panel. A strict shift schedule no longer equates to a more difficult payroll, because MinuteHound can send back detailed reports of time and attendance in the form of an Excel spreadsheet or PDF file. Holidays and sick leave can also be added with a few simple keystrokes using the intuitive interface of MinuteHound's online control panel.
Affordable for all Businesses
Many would think a large price tag would accompany all of these great features. However, MinuteHound's system is a one-time purchase with a small monthly fee depending on the size of the company that wants to use it. From the start, the system pays for itself. The flexibility and scalability of MinuteHound's time clock solution truly makes life easier for all types of businesses. From giant corporations, to small, family owned shops, MinuteHound takes the stress out of managing wages.
MinuteHound Contact Information
Website: http://www.MinuteHound.com
Email: info(at)MinuteHound(dot)com
Phone: (800) 351-7237