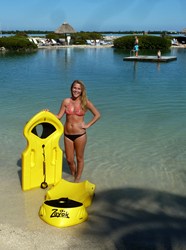 "It is so comfortable I spent hours just checking out all the exotic fish." - Caitlyn M.
Sarasota, FL (PRWEB) August 01, 2013
With conventional snorkeling equipment, most people spend only 20-30 minutes exploring the underwater environment. They generally lack the equipment that would allow them to spend extended time exploring the deep.
The revolutionary Zayak Sea Sled provides a safe and comfortable molded platform that allows the snorkeler to spend more time exploring. The internal Cargo Net provides them with a secure location for their underwater camera, water bottle and sunscreen. The vented Neoprene Dry Mask blocks out all ambient light and reflections, providing them with greater visual detail of the underwater environment. The wide-angle Panoramic window provides the snorkeler with a greater view than most snorkel masks, and without the discomfort.
Unlike kayaks, wind-surfers and Stand-Up-Paddleboards, there is no need to purchase expensive roof racks or carriers. The Zayak Sea Sled fits easily in your car and is light enough to carry to the beach.
The Zayak Sea Sled will be exhibited at the SURF EXPO in the Orange County Convention Center in Orlando, Florida Sept 6-8 in Booth 909 and the DEMA Show in the same location in Orlando Nov 6-9 Booth 424.