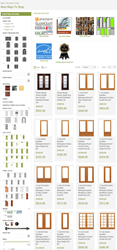 Buyers get to the specific product that you want with just a few clicks of the computer
Tampa, Florida (PRWEB) August 01, 2013
Leading exterior & interior door distributor US Door and More introduces a new method of shopping through their online portal, called "More Ways to Shop" which makes it easier for customers to find the products they want. One of the advantages of shopping online is the convenience of seeing all the products right there on the screen. It beats having to go around the store, going up and down flights of stairs just to see all the to the products. But if the online store has an extensive line up of products, it can be tiring to look at the products one by one. That is why Door and More introduces it's "More Ways to Shop" option so that customers can simply click on the characteristics and features they want in their doors and only those that satisfy these criteria will be shown.
Door and More has been in the business of distributing doors for the past 40 years. It has made a reputation for itself by having high quality collections of doors that have been handcrafted by award-winner teams of designers and artists. These doors (front entry, exterior, French, patio and interior) vary in designs and styles ranging from classic to contemporary. They come in many different dimensions, colors, materials, brands and finishes and they are all made with deft precision and advanced techniques in door construction. With a vast number of products on hand, Door and More offers its "More Ways to Shop" search function in order to easily short list the products that take their customers' fancy.
Customers can easily narrow their search by brand, model, style, material, dimension, price and more. This means that customers get to the specific product that they want with just a few clicks of the computer. Door and More understands that convenience is also a factor in a customer's shopping experience and by offering "More Ways to Shop" it shows that it understands their customers' concerns and is determined to provide utmost customer satisfaction.
What's more, once the search generates a longer list of products, there is a "Compare" button that can compare different types of doors to help customers in deciding what they want.
"More Ways to Shop" gives customers the freedom to search Door and More's whole product line in a jiffy. With simple clicks, customers can decide what to look for and the search yields the results in a few seconds. This convenience is just one of the features that makes Door and More a top seller in its class.
About Door and More
Door and More, Inc. is a Florida-based online distributor of high quality entry doors, exterior doors, French Doors, patio doors and interior doors. They offer doors in wood, glass, fiberglass and steel. Their doors come in many configurations to suit every need: single, double, bypass, bifold and more. Despite being made from rare and exquisite designs and durable materials, they offer these doors at factory prices. For more information, please visit http://www.doornmore.com.