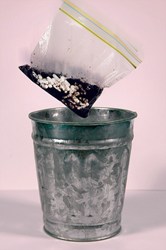 Preventing children and pets from accidental poisoning and keeping our drinking water supply safe can be achieved in a few simple steps. - Ralph Sorrell, RPh
Mountain Brook, AL (PRWEB) August 07, 2013
Knowing how to store medications, as well as when and where to dispose of them safely is just as important as knowing how and when to take your medications. Here are some tips from pharmacists on where and how to store medicines and how to dispose of them.
When your pharmacist sends you home with a new medication, keep it in its original container, which has your name and dosing information on it. Be sure to engage child resistant packaging when it is supplied. Many medications, especially over-the-counter medications that can be harmful to children, are put in foil packaging. If you find these difficult to open, talk with your pharmacist. For most products on the market today there is one type of package that is without child-resistant features. Most important, do not transfer your medication into an empty bottle. Someone else may take them not knowing they belong to you.
If you are unsure about the best place to store your medications, ask your pharmacist. To keep children and pets safe, store medications in a locked container in a high cabinet. If that is not possible, find a place that is difficult for children to see and reach. It is important to remember that a young child has no idea that the colorful objects in the pill bottle are not candy. Even over-the-counter vitamins and medications, particularly those containing iron, can be dangerous if take in large amounts, especially for children.
Want to keep medication safe and potent? Keep it out of direct sunlight in a cool, dry place. Some medications are affected by humidity, so the bathroom medicine cabinet is not always the best choice. Other medications require refrigeration; but don't keep mediations in a cold place unless instructed to do so by your pharmacist or physician.
It may be wise to keep a reserve supply of medications in the event of an emergency. For example, if you need prescription medications for a chronic condition, such as diabetes, asthma, hypertension or a psychiatric condition, carry at least a five day supply with you in a purse or briefcase in labeled containers. Make sure these are in child-resistant containers and that your purse or briefcase is kept out of the reach of children.
As for medication disposal, make it a part of your fall and spring cleaning ritual. Check expiration dates. If the prescription is not dated, think of it as expired at 6 to 12 months after purchase. Also, be sure to dispose of medications that may have changed color or developed an unusual odor [even if it is still in date]. Don't put vitamins and medications into open trash containers or down the toilet. "Preventing children and pets from accidental poisoning and keeping our drinking water supply safe can be achieved in a few simple steps," says Ralph Sorrell, president of Ritch's Pharmacy. First step is to call your local government's household trash and recycling service to see if a drug take-back program is scheduled for your community. The Drug Enforcement Administration [DEA] working with state and local law enforcement agencies sponsors National Prescription Drug Take Back Days throughout the United States. According to the DEA website, the next Take Back Day is scheduled for October 26, 2013. If you need to dispose of medications before this date you may throw the drugs in the household trash after you follow these easy steps:

Take them out of their original containers and mix them with an undesirable substance, such as used coffee grounds or kitty litter. The medication will be less appealing to children and pets, and unrecognizable to people who may intentionally go through your trash.
Put them in a sealable bag, empty can, or other container to prevent the medication from leaking or breaking out of a garbage bag.
Before throwing out a medicine container, scratch out all identifying information on the prescription label to make it unreadable. This will help protect the privacy of your medical information as well as your identity. Do not give left over prescriptions to friends to use. Doctors prescribe drugs based on person's specific symptoms and medical history. A medication that works well for you could be dangerous for someone else.
When in doubt about proper disposal, talk to your pharmacist.