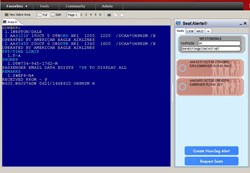 Seat Alerts reduces the time it was taking us to constantly check availability for specific seat types. It's a huge timesaver.

Lesley Paull, Paull Travel
New York, NY (PRWEB) August 01, 2013
After beta testing with several travel agencies, ExpertFlyer.com has announced that Seat Alerts, its award-winning app that automatically searches for better airline seats, is now available as a Sabre Red Workspace app for Travel Management Companies (TMC). Selected as a runner-up in this year's Sabre Red Appy awards, Seat Alerts can now be integrated directly into the GDS platform, via Sabre Red Workspace, or through an API for larger agencies that want to integrate the app directly into their custom backend solutions. For the first time, agents have a way to be notified when the best seat becomes available, helping them deliver a new, and outstanding level of personal service to their customers. Agencies can download ExpertFlyer's Seat Alerts Red app from the Sabre Red App Centre.
The Seat Alerts App is based on the company's highly-acclaimed travel feature that helps passengers move out of undesirable seat assignments, such as the dreaded middle seat, by notifying them when a preferred seat (aisle, window, etc.) becomes available on their flight. Now, ExpertFlyer is bringing this tool directly to the agent desktop via the Red App Centre. With Seat Alerts, agents have an opportunity to secure a better seat for their travelers in an integrated, easy-to-use way and generate a new revenue stream and provide an invaluable service to clients. In addition, purchasing a premium seat assignment upfront is no longer required now that there is a proactive solution that works to get travelers into a better seat, without having to pay a fee to airlines. Agents will be able to integrate Seat Alerts into their usual workflow with flight-specific options since a traveler's "favorite seat" may not be the same for every flight, airline or equipment type.
Seat Alerts Provides TMCs with a Competitive Advantage over Online Booking
Several TMC's participated in the beta period and expressed the impact the new app will have on their overall workflow and the additional service it allows them to offer customers.
"The Seat Alerts app has greatly increased our success rate in finding better seats while at the same time saving us many hours of work at an affordable rate," explains Alex Irmberg, CEO at Travelbusiness, Inc. a TMC that specializes in executive travel for life science companies and their financial partners. "We had previously been using the ExpertFlyer website for seat alerts so we are excited to have the same reliable technology integrated into Sabre Red."
Paull Travel, a full service agency based in Edmonton, Alberta, had a similar experience with integrating Seat Alerts into its system workflow. "Seat Alerts has been a great feature for both corporate and leisure bookings," explains Lesley Paull, founder and general manager at Paull Travel. "Seat Alerts reduces the time it was taking us to constantly check availability for specific seat types. It just lets us know when it's available. It's a huge timesaver."
"Seating is one of the biggest complaints of business travelers today," says Chris Lopinto, president and co-founder of ExpertFlyer.com. "Seat Alerts gives TMCs a tool to enhance the traveler experience by proactively looking for a better seat, without wasting valuable agent time or resources, while helping to eliminate a major anxiety point with air travel today."
Seat Alerts is currently available to ExpertFlyer.com subscribers as an online feature and can create virtually unlimited Seat Alerts as part of their subscription. In addition, a free Seat Alerts account can be created at ExpertFlyer.com by anyone who travels and will allow travelers to maintain one active Seat Alert at a time, at no cost.
About ExpertFlyer.com
ExpertFlyer.com was conceived and created by an eclectic team consisting of a veteran elite tier frequent flyer, an airline captain and corporate travel manager, and information technology professionals to deliver a 24/7 real time powerful air travel information service. The company provides its subscribers and corporate travel managers alike with a complete, concise and efficient way to access the ever-changing details of worldwide air travel information. For more information, please visit http://www.expertflyer.com. Seat Alerts is a registered service mark of Expert Travel Services LLC.