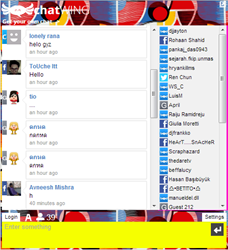 New York, NY (PRWEB) August 29, 2013
Chatwing.com has extended its reach to the Android community by launching the newest version of its chat box. In this new version, mobile users can rely on continuous web chat, along with straightforward online marketing directives. Mobile users can also use the Chatwing chatroom to exchange information about their favourite apps.
Chatwing.com's move to the Android community has been the subject of months of brainstorming and strategizing. Chatwing developers, at first, were almost reluctant to do the initiative until they realized the potential of the mobile markets.
"The Android market is really growing," says Michael Diamond, one of Chatwing's key developers. "With Android apps being introduced every now and then, there have been many things to talk about in Android. Users can exchange information about their favourite apps. Alternatively, they can even talk about app installation tutorials, or even gaming walkthroughs."
Chatwing chat software has also introduced premium advantages for professional marketers and entrepreneurs who are building online presence. Clients can avail premium advantages by purchasing Chatwing Coins. Each Chatwing Coin costs $1.
To know more about the chat app, clients can visit Chatwing's official Facebook page. Updates about the chat software will be posted on a frequent basis.
About Chatwing.com
Chatwing.com specializes in the new field of live website chat software. Over years, the Chatwing team has introduced live chat widget for hundreds and thousands of blogs. The Chatwing application bridges people from many parts of the world, creating global synergy through the Internet. The shout box can be installed in just seconds, and it can be used for varying purposes such as leisure and Internet marketing. It also allows a user to customize the size, color, and name of the widget.