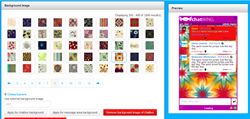 Cambridge, MA (PRWEB) August 28, 2013
Chatwing has just launched its newest chat box in the Android community. In this new version, the developers have introduced an extended modification setup, allowing users to create various chatroom designs. Mobile users can also take advantage of Chatwing's new premium services.
One of the features included in the Chatwing chat app is the live control panel. This allows users to edit their messages in real-time and upload photos. Video links can also be uploaded, supporting any viral marketing campaign.
Background images were also improved in the new chat software chat room version. Now, there are hundreds of background images to choose from—each offering a unique design that can match any website preferences.
The premium services are also up and ready. Website owners have the option to remove the Chatwing logo in order to upload their own brands. The sidebar can also be removed, so that users can upload a new text. Each Chatwing service costs 1 Chatwing coin, which in turn can be bough for $1. For every transaction, Chatwing can sell up to 15 coins.
Chatwing.com is dedicated in ensuring that all web users are getting the rate of connectivity that they deserve. Apart from that, the company will also emphasize the importance of social connection. Updates are frequently posted in Chatwing's Facebook page and Twitter account.
About Chatwing.com
Chatwing.com specializes in the new field of live website chat software. Over the years, the Chatwing team has introduced live chat widget for hundreds and thousands of blogs. The Chatwing application bridges people from many parts of the world, creating global synergy through the Internet. The shout box can be installed in just seconds, and it can be used for varying purposes such as leisure and Internet marketing. It also allows a user to customize the size, color, and name of the widget.