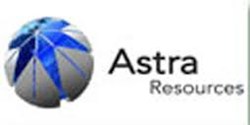 This relationship will transform Astra Resources Plc into a significant technology driven resources company with the backing of a major State-related corporation
Adelaide, South Australia (PRWEB) August 01, 2013
CRFG have agreed to provide major European prime bank facilities to Astra Resources Plc for projects on a project by project equity basis which will make CRFG the largest single shareholder of Astra Resources Plc once all funding stages are complete. It will be a revolving facility which can be drawn for capital and operational needs of projects.
The funds will be deployed through a 50/50 Joint Venture Company established in Hong Kong which will be jointly managed by CRFG and Astra.
Additionally, the agreement further commits CRFG to significant trade finance facilities, including taking the mined and finished steel products to broader Chinese markets.
Apart from general working capital needs of the parent company, Astra Resources Plc, all funding requirements and needs of projects and technologies are catered for in this agreement.
The themes and spirit of the agreement are around game-changer technologies that will change established industry structures and paradigms in steel and energy industries with a particular focus on carbon efficiency, unique mining opportunities in developing countries where the logistical infrastructure is in place and unique market entries which require a combination of technology, mining and bilateral/collaborative relations.
The initial priorities will be:

Orissa, India iron ore mining and trading followed by high strength steel manufacturing for railways and associated industries
Commercialisation of clean coal technologies, with a focus on brown coal conversion for Chinese energy markets
Gold and copper projects in Indo-China
T-steel and Nano-steel rollout in Europe
Green Diesel injector technology for vehicle conversions in China to reduce pollution
Solar DSSC technology as competitor to silicon solar cells
Developments of coal mines in Africa and iron sands in Philippines
"This relationship will transform Astra Resources Plc into a significant technology driven resources company with the backing of a major State-related corporation" says Astra Managing Director Silvana De Cianni. CEO Jaydeep Biswas adds "The equity valuations are very significant and in accordance with a company with innovative, proven game-changer technology focussed on industry efficiency, industry transformation, transformational products, developing markets and sustainable development"
Astra Resources Plc will request the required approvals of shareholders at future designated milestones. This continues an exciting week for Astra Resources with the announcement of VEM Aktienbank AG as the Financial Advisor for their upcoming regulated market listings in Europe and Asia.
Astra Resources' global portfolio includes gold interests in Southeast Asia, coal mine in Africa, iron ore in India and the Philippines, carbon efficient and commodity businesses, the production of the high-strength T-Steel technology in Hungary, clean coal technology.
For more information visit http://www.astraresources.com.au
Promotional Video: http://www.youtube.com/watch?v=Zc1b9o585VI
Media Interviews with Astra's CEO Jaydeep Biswas can be organized by contacting:
caitlin@astraresources.com.au