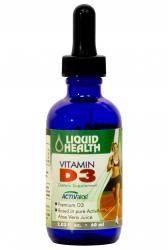 Source, type and quality of food usually matters as much as how you use them in your diet.
Murrieta, CA (PRWEB) August 07, 2013
A diet plan that has gained a lot of attention and popularity over the last couple of years is the Paleo, or Caveman Diet. According to a recent WebMD review of this diet, it's based on "eating plants and wild animals similar to what cavemen are presumed to have eaten around 10,000 years ago." Many people tout this diet as a great way to lose weight, but some critics worry that the dietary exclusions can lead to nutrient deficiencies and require supplementation, such as with Liquid Health's Calcium or Vitamin D3 supplement.
While the specific rules can vary depending on the source, the basic idea behind the Paleo Diet is to eat foods that our cavemen ancestors would have eaten. These foods include meat, fish, shellfish, eggs, tree nuts, vegetables, roots, fruits, and berries. Foods that are generally excluded from the Paleo diet are dairy, grains, sugar, legumes, potatoes, processed oils, and any foods that were grown after agriculture started. Kathleen Zelman, MPH, RD, who wrote the review of the Paleo Diet for WebMD, says, "it may be tough to follow this plan long-term due to the diet's strict nature."
Because of the restrictive nature of this diet there is a high probability that nutrient deficiencies can occur. Zelman recommends, "If the Paleo or Caveman diet appeals to you, be sure to supplement the plan with calcium and vitamin D." Liquid Health offers a liquid calcium and a liquid vitamin D3 supplement, both of which would be helpful to someone implementing the Paleo Diet.
Brandon Siggard, CEO of Liquid Health, Inc. says, "While we encourage supplementing to fill nutritional gaps, following a diet that completely cuts out food sources of generally healthy and necessary nutrients seems to go against the idea of following a healthy diet in the first place."
"I do agree with some of the basic concepts (of the Paleo Diet). However, most Paleo diets completely exclude "grains, legumes, dairy products, and potatoes." I don't universally exclude them. They can be used properly just as any food can also be used excessively or improperly. Source, type and quality of food usually matters as much as how you use them in your diet," says Dr. Robert Gibson.
Research seems to support the idea that including whole grains, beans, and low-fat dairy in ones diet is beneficial. These foods are healthy and nutrient-dense making them ideal to include in any well-balanced diet.
About Liquid Health, Inc.:
Liquid Health, Inc. has been designing and manufacturing liquid vitamin supplements since 1991. All Liquid Health products, including Liquid Health Calcium, are manufactured in a certified-cGMP (current Good Manufacturing Practices) facility, using only premium/qualified ingredients, and are analyzed and tested. All Liquid Health products are made in the U.S.A.
Contact:
Sarah Brimhall, Marketing Associate
Liquid Health, Inc.
800-995-6607
http://www.liquidhealthinc.com