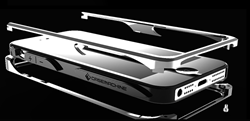 Miami, FL (PRWEB) August 01, 2013
The Berlinetta is one of the most elite designer cases from Casemachine to date. "Using an all-aluminum body without letting the signal reception get affected was a challenge," said the company's president. "We took all precautious measures to make sure that the antenna gate issues of the iPhone do not become a trouble while aluminum is wrapped around it. Our mechanical designing experts worked in teams to get the shape of the aluminum right." He added "The component which doesn't let signals get affected is soft silicone – the designers put silicone housing within that would not allow the case touch the phone at all!"
The Casemachine Berlinetta case for Apple iPhone 5 comes with a screw-on assembly, requiring different parts to be screwed together for the tightest possible grab of the case on the phone. The screw-on assembly ensures that the phone doesn't face any scratches or scrapes had the all-aluminum case sported a slip-on nature.
Casemachine has provided an elegant protection case for the new iPhone 5 by designing the Berlinetta. Only the best CNC machined, billet aluminum is used to construct the bezel and the back frame. The silicone housing serves three purposes at the same time:
1. It acts as a shield between the aluminum body of the Berlinetta and the iPhone's antennas
2. The housing also forms the integrated volume switch
3. Silicone provides a touch-friendly and firm grip on the phone.
Casemachine's Berlinetta comes with a wide range of premium, electroplated shades. The front bezel will be available in nine colors while the back frame has two electroplated shades. The silicone housing will also come in Black or White, and users can also get a clear housing to add a transparent touch to the sides and the phone's volume switch.
Through the excellent engineering techniques used, Casemachine claims the Berlinetta is going to be the first all-aluminum case with zero-impact on signal reception and data transfer. Be it 3G, LTE, WiFi, Bluetooth or WAP, the Berlinetta case for Apple iPhone 5 will not adversely impact the transfer speed while adding a highly impact elastic protection cover around the phone's body.
For the rear side, users have the option to opt for the Alcantara Suede backplate coming in Black shade, currently being offered free of cost. The case has started shipping to all parts of the world following its appearance at the Las Vegas CTIA Show 2013, where masses of iPhone 5 users gave it a warm reception.
To inquire about the Berlinetta case for Apple iPhone 5, give Casemachine's customer support a call at (786) 245-4466.