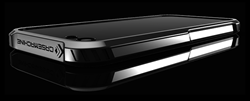 Miami, FL (PRWEB) August 02, 2013
Casemachine's design engineers have kept the same slip-on assembly nature for the i5 Slimline V2 case for Apple iPhone 5. The Slimline marked one of Casemachine's best selling products worldwide, and the company now hopes to aim higher by releasing an upgrade exuding racecar inspiration.
The i5 Slimline V2 for Apple iPhone 5 uses fine quality silicone which allows the sides to be even thinner than before without making any compromises on the elite protection that Casemachine products are known for. The silicone grabs a firm hold on the iPhone and allows the user to experience the phone in a more customized way without taking away its inherent beauty.
Casemachine has removed the elastic bridges used in the Slimline Flex Case to make the TPU easily manageable. On the i5 Slimline V2, however, the touch friendly silicone itself caters for superb elasticity and uncompromising fall protection. The i5 Slimline V2 case is available through the Casemachine website in various rich colors. The silicone frame can be selected in Black or White colors which compliment both the official colors of the new iPhone 5.
The CNC machined billet aluminum stripes are available in nine different colors which add a contrast on the sides and provide even more protection to the phone's exposed corners. Casemachine has used aircraft grade aluminum stripes to decorate the case and give it a premium brushed finishing.
For the back, the Casemachine i5 Slimline V2 case for Apple iPhone 5 uses branded Alcantara Suede backplate, which gives an elegant profile and completely protects the glass back of the phone from all sorts of scratches. The suede backplate comes with the official Casemachine logo embedded for further styling.
The corners of the Slimline V2 case are ribbed and reinforced to make sure they don't loosen up after a few months of heavy usage. The reinforced corners also add to the overall impact elasticity of the silicone and deliver minimum shock to the phone upon an accidental fall. Casemachine has also used its logo in designing the power button. A stylish "C" made from soft-touch silicone is what covers the phone's original sleep-awake button.
On the right hand side, an ergonomic curve is placed to maximize the grip of the end user on the phone. The ergonomic curve makes it virtually impossible for the phone to slip from hand irrespective of the circumstances. The president of Casemachine said "What I really like about the V2 is that ergonomic curve – you can hold your phone in your hand and be a part of a parade and your phone won't fall off. The case will hold your phone exactly in its place and you will hold onto the case despite the abrupt shocks and movements."
For further details or any queries, contact Casemachine support at 305-818-9933.