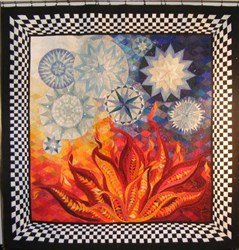 Claudia Pfeil has been winning many awards with her quilts at AQS and other shows, so it was a natural to show quilters at AQS QuiltWeek
Grand Rapids, MI (PRWEB) August 05, 2013
The American Quilter's Society, headquartered in Paducah, KY, is pleased to present "The Silk Road Tour" at AQS QuiltWeek™ – Grand Rapids, Michigan August 14–17, 2013. All 28 works in this exquisite exhibit showcase the works of Claudia Pfeil, showing her progression from cotton quilts to those made of 100% silk. Never before seen together in the United States, this is only one of three North American Debut exhibits planned to show at the DeVos Place Convention Center during AQS QuiltWeek – Grand Rapids, Michigan.
Internationally famous quilter and textile artist Claudia Pfeil is partnering with the American Quilter's Society to select and display her collection of quilts. Viewers will be amazed at the design and skill in these one-of-a-kind masterpieces. Coming all the way from Germany, viewers will get the opportunity to see this group of prizewinning quilts made by Claudia Pfeil.
Bonnie Browning, AQS Executive Show Director, says, "Claudia Pfeil has been winning many awards with her quilts at AQS and other shows, so it was a natural to show quilters at AQS QuiltWeek how she started using cottons and hand work and moved on to using silks and both her home and longarm sewing machines."
All 28 hand-picked works for the exhibits are masterfully designed and crafted, showcasing Claudia's unique combinations of color, threadwork, and detailed quilting as the exciting silk fabrics come to life. Creating a dynamic quilt using silk fabrics is one of the most challenging feats for the modern fiber artist.
Michele Duffy of American Quilter magazine shares, "The challenge of working with silks, which can be sometimes have a mind of its own, is redeemed when you see the beautiful luster and loft you get when it is quilted." The masterpieces in this debut exhibit show the amazing dexterity found in only the most accomplished quilters.
Also sharing their North American Debut in Grand Rapids, Michigan are two more world-class exhibits. "Celebrating Quilts – The Caohagan Way," from the Philippines, and "Appliqué Artistry," featuring works of Patricia J. Campbell, shed light on the diversity and exceptional creativity in quilting across the globe.
Admission to "The Silk Road Tour" and all exhibits is free with admission to AQS QuiltWeek. Hours are Wednesday, August 14 through Friday, August 16, 9 a.m. to 6 p.m., and Saturday, August 17, 9 a.m. to 5 p.m.
__________
The American Quilter's Society is the largest quilting membership organization in the world. For almost 30 years, AQS has been the leading voice in quilting inspiration and advice, through a broad suite of products—magazines, books, live events, contests, workshops, online networks, patterns, fabric, and catalogs. At AQS, we believe that with inspiration and advice, the creatively-minded individual can take their quilting projects beyond what even they had imagined. That is why inspiration is central to everything we do. The leading authors in quilting choose to publish with AQS; the best in quilt artistry select AQS events to display their work; the newest quilters learn from the knowledge and inspiration of AQS members.