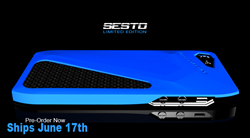 Miami, FL (PRWEB) August 04, 2013
The Sesto case is constructed of premium, highly impact elastic polymer. The case, though having a snap-on nature, is "guaranteed not to fall apart following accidental falls." The polymer perfectly fits inside the allowed vents and snaps together as a racecar-inspired casket for Apple's latest device. Casemachine design engineers have perfected the corners and the backplate to provide a premium feel to the touch.
The Sesto comes with a lifetime warranty for the aluminum bezel, the polymer and the real CNC machined carbon fiber used in the construction of the case. This ensures a regular smartphone user neither the phone nor the case will face any scratches, dents, cracks, scrapes and/or regular wear and tear resulting from usage.
Casemachine's Sesto case is coated with automotive PPG coating which gives the surface a smooth, touch friendly finish. The PPG coating makes it easy to slip the phone in and out of the pocket without letting lint or other particles settle between the iPhone's open spaces.
Casemachine hopes to provide durable and long-lasting protection with the Sesto case as it comes with a one-of-a-kind backplate styled with real carbon fiber. While the aluminum bezel fully protects the iPhone's sides, the rear plate provides elite protection to the iPhone's rear glass panel. The carbon fiber is styled into the rear plate as a result of excellent design engineering and is promised not to have an impact on signal reception and/or data transfer speeds.
The company is offering the Sesto case for the Apple iPhone 5 in five official Lamborghini racecar colors. These include the Grigio Antares, Bianco Cygnus, Nero Persus, Monterey Blue and Arnacio. The company has also added two new colors for the aluminum bezels on the Sesto – in red and black. The new aluminum bezels are complimentary purchases and can be ordered through Casemachine's official online store.
A stylish camera opening is sketched on the Sesto case for Apple iPhone 5's camera lens. Casemachine shows creativity here as well by not opening a simple hole for the camera to take pictures. The company has instead spent over 100 engineering hours just to get the placement of the ports right.
The angular look of the rear plate is really compelling and adds an elegant racecar feel to the iPhone. Casemachine has also engraved its logo along with its name on the back in a sporty look thus igniting the racecar feel intended.
To further enhance protection, Casemachine said it will use impact resistant TPU liners (thermoplastic polyurethane polymer) which will keep the phone firmly in place and will help the Sesto to withstand abrupt shocks and movements.
Casemachine products are a display of extreme determination and innovation. For further information on the new Sesto case for Apple iPhone 5, please head over to the official store at http://www.Casemachine.com.