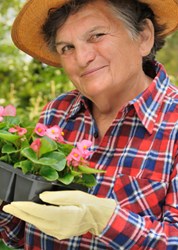 'Friendship House helps me balance caring for my 92-year-old mother, my 14-year-old daughter and myself. Mom looks forward to the days she goes to Friendship House and it's the highlight of her week,'commented the caregiver of a Friendship House visitor.
Morristown, NJ (PRWEB) August 01, 2013
For many adults with various cognitive or memory challenges or adults seeking the benefits of social interaction and physical stimulation, a supervised daycare program provides expert care for the client and a welcome respite for their caregiver. The Visiting Nurse Association of Northern New Jersey provides Friendship House, an adult social day care program that is constantly developing new and innovative programs to benefit their clients. Activities routinely include exercise, reading, crafts, conversation, games and reminiscing supplemented with dancing, making music and gardening.
In an effort to expand the variety of experiences for clients, Yvonne McDonald, Activities Coordinator at Friendship House, developed a program to improve an underutilized outdoor garden at Friendship House. She enlisted the help of the Morris County Master Gardeners, Horticulture Enrichment Program (HEP), caregivers and volunteers to gather supplies including seeds, hanging plants, a trellis, soil, gloves, shovels, pots and potting mix and enhanced the courtyard space for clients to actively garden there. The Master Gardeners of HEP, horticulture enthusiasts who have received extensive training by the Rutgers University Cooperative Extension for the purpose of educating the public on horticulture and gardening subjects, visit Friendship House once a month and lead the clients in gardening workshops. Following the theme of each workshop, Yvonne is able to assist clients in applying the lessons learned to maintain the garden. HEP also generously donated a fence to discourage foraging animals. The Friendship House gardening project meets the HEP criteria of providing projects that include education and hands-on participation to special needs populations.
Ms. McDonald reports that the enthusiasm for the project from volunteers was matched by the response from the Friendship House clients. She says, "Gardening is a part of many of our clients' history but health related issues now make it challenging for them to continue gardening on their own. The gardening program at Friendship House allows our clients to experience the great joy of growing mint, basil, tomatoes, squash and flowers, and their smiles make the garden worth every moment spent to create it."
Caregivers and Friendship House staff report that clients benefit from the Friendship House garden in many ways, including physical exercise, sensory stimulation from the sight and smells, and social interaction with each other, Master Gardeners and other volunteers. Caregivers appreciate the garden as well since it provides a new and beneficial activity for them to perform with their loved one with the help of staff and volunteers.
About the Visiting Nurse Association of Northern New Jersey
For more than a century, the Visiting Nurse Association of Northern New Jersey, located at 175 South Street, Morristown, NJ, has been delivering home health services to residents of Morris County, NJ and neighboring communities who want to return home safely following hospitalization or need a helping hand to remain in the comfort of home due to an illness, disability or advanced age. More information is available at http://www.vnannj.org or by calling 1-800-WE VISIT (1-800-938-4748).
About Friendship House
Friendship House, a social adult day center operated by the Visiting Nurse Association of Northern New Jersey, is a safe haven where individuals with physical and cognitive challenges can find acceptance, companionship and practical assistance while their primary caregivers are afforded the peace-of-mind required to take a respite from providing care. The goal of Friendship House is to bring joy into the lives of clients and return them to the care of loved ones who are refreshed by the "off duty" time provided. Friendship House is located at 130 Powerville Rd., Boonton, NJ 07005. More information is available at http://www.vnannj.org or by calling 1-800-WE VISIT (1-800-938-4748).