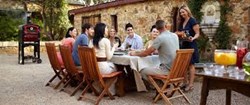 Bloomington, IN (PRWEB) August 06, 2013
Delight guests and create an outdoor cooking experience with the Fornetto Two-In-One, Wood-Fired Oven and Smoker (http://www.fornetto.com). With its classic appearance, coupled with modern ingenuity, dual functionality and outstanding performance, the Fornetto oven is the ultimate social cooking experience. Create authentic pizzas, amazing roasted meats, baked breads and pasta bakes safely and easily at home..
The oven is available for purchase at ETC For the Home for $1499 per unit.
The oven features solid cast iron doors, stainless steel oven interiors and a separate fire chamber. The unique smoker slide mechanism allows you to bake pizzas or breads as well as smoke meats and seafood all in one oven chamber. The unit comes fully loaded with pizza stone, stainless steel baking racks, fire bricks, shelving and tool caddy and is completed with its heavy duty oven cover for four season use. It's spacious oven chamber with a capacity of 16.15 Gallons is manufactured with an exterior powder coated 304 Stainless Steel.
Other features include:
Natural Fuel Options: Wood, Charcoal or Briquettes
Ventilation control valves allow fine adjustment of heat chamber
Includes Temp Gauge, Smoker Valves, Ceramic Bricks for heat retention
Durable all-weather protective cover
Wire Pizza Stone Rack and Pizza Stone
Removable Smoker Chip Box
Discrete trolley handles and wheel allow for easy mobility
Spacious oven chamber with a capacity of 16.15 G
Dimensions Width: 25.59 in, Depth: 22.05 in., Height (w/ chimney): 75.47 in
ETC for the Home, Bloomington's newest retail store, offers thousands of high quality products for the home, a working gourmet kitchen, cooking demonstrations and classes and a staff of design and culinary experts.
Retail Store hours are Monday through Saturday, 10am to 6pm. For more information, call 812.369.3333 or visit http://www.etcforthehome.com.