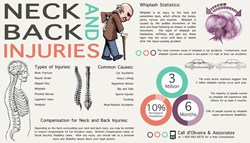 (PRWEB) August 05, 2013
A Coventry woman (name withheld for confidentiality purposes) recently recovered a $67,500 settlement for neck and back injuries she sustained from a rear-end collision (Coventry, RI, District Court, Case Number: CV-21404). The woman sought treatment from an orthopedic doctor and eventually had further treatment from another doctor, who administered steroid injections to help manage her continued lower back pain.
Following her accident, the woman contacted the d'Oliveira & Associates Coventry office and hired Attorney Cameron to handle the claim. Attorney Cameron calculated the woman's total damages, including medical expenses and lost income, and negotiated the $67,500 settlement with the other driver's insurance company. Attorney Cameron stated: "It is great when hard work and perseverance allows me to secure compensation for a deserving client. Also, the case was settled out of court."
Rear-end collisions can be caused by any number of factors including, but not limited to, driver inattention, following too closely, panic stops, and low traction as a result of weather conditions or worn pavement. This type of accident is exceedingly common; in fact, recent data indicates that 1.8 million of these crashes occurred over a one-year period (i).
The injury and disability lawyers of d'Oliveira & Associates have been serving clients across Rhode Island and Southeastern Massachusetts for over 24 years now. The firm's attorneys and legal staff are experienced handling all types of accident cases including motor vehicle accidents, slip and falls, dog bites, and other incidents involving the negligence of another. They would be more than happy to answer any questions you may have in regards to a potential injury or disability claim.
For your free consultation, call 1-800-992-6878 or fill out an online contact form at our site: dmlaw.com.
LINKS:
(i) Science Daily. 2008.
sciencedaily.com/videos/2008/0501-avoiding_rearend_collisions.htm