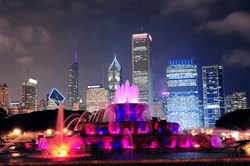 "Our partnership with Four Points by Sheraton is yet another way to expand our services and offer better parking options...."
Chicago, IL (PRWEB) August 05, 2013
Greenbee Parking, a young and dynamic airport solutions firm, has just announced that Four Points by Sheraton will be their preferred hotel partner in Chicago. Visitors to the Windy City can now easily avail their parking services and get easy and secure spots for their vehicles, even if they book at the nth hour. This strategic partnership will now allow all Greenbee Parking clients and members to avail the Four Points parking space without having to book rooms there. All they need to do is go online and book a parking space of their choice through the Greenbee website and they are done. The company offers very low Chicago Ohare airport parking rates which can beat the regular ORD parking rates any day. There is a regular shuttle that runs between the hotel and the airport and are available to all Greenbee customers, free of charge. They can simply park their cars here and take the shuttle to the airport. For those who hate the airport crowd and traffic, and are never at peace leaving their cars at the airport parking lot, now have a golden opportunity with Greenbee and Four Points by Sheraton.
"We focus on customer comfort at every city we serve but it is even more important in busy cities like Chicago which see more traveler footfall than most other American cities," said Christine Cooper – Marketing Coordinator, Greenbee Parking. "To make our services more focused, affordable, and easy to avail we constantly strive to come up with new ideas and innovative solutions. Our partnership with Four Points by Sheraton is yet another way to expand our services and offer better parking options for our customers without the steep Chicago O' Hare airport parking rates involved."
Chicago O'Hare International Airport Parking Information
O'Hare International Airport has received the 'Global Traveler Award for the Best Airport in North America' for 13 years in a row. That is an amazing achievement for an airport that is constantly competing with the other great airports globally. It is considered to be the fifth busiest airport in the world and the fourth busiest international gateway in the US. Chicago, which is known for being one of the major business hubs in North America and consequently the world, sees a high volume of domestic and international business travel footfalls round the year. A major contributing factor is also the presence of the some of the top MNCs having their base here. Added to this is Chicago's own intrinsic charm which lures in leisure travelers from all corners of the world on a regular basis. O'Hare is understandably a busy airport and despite the excellent infrastructure, authorities find it difficult to provide adequate parking options for the immense crowd it faces daily. Now with service providers like Greenbee Parking and their partners like the Four Points by Sheraton, travelers using this busy airport can find easy parking space and that too at very affordable Chicago O' Hare airport parking rates.
The Greenbee Airport Parking Solution
Greenbeeparking.com is the connection between consumers and parking vacancies in close proximity to major airports and seaports. The parking spaces are very affordable because the company has negotiated discounted rates with major hotel chains for the parking spaces that are not currently occupied. Here's how it works.
Greenbee Parking puts the available inventory of parking spaces on their website to be reserved by business and leisure travelers looking for cheap airport parking. This alternative method for finding parking equates to significant savings for the traveler. These savings are sometimes as much as 75% less than parking at the airport or seaport.
About Greenbee Parking
Greenbee Parking is the nation's most innovative long term parking company, with a new way of making long term parking affordable. The company is rapidly adding new airports to its network.