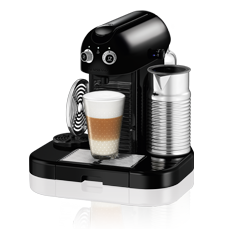 Bloomington, IN (PRWEB) August 05, 2013
The Nespresso is the perfect blend of power, luxury and convenience. Made in Switzerland, there are 11 machines in the Nespresso (http://www.nespresso.com) line, and each is built to last with heavy duty construction and timeless design. The Nespresso is easy to prepare and use with individual coffee capsules and the convenience of a self contained milk frother. At an affordable price point, there is a machine for every budget that won't break the bank. Offering 22 different Gran Cru coffee choices, there is a strength and flavor for every coffee drinker. Just pop the aluminum capsule in the machine, press the button and enjoy the some of highest quality coffee in the world
The Nespresso Club offers exclusive services to each customer and capsules can be ordered easily via the internet, 24 hours a day. Machine experts are available to answer any technique inquiries and provide advice regarding the machine. Coffee specialists are on hand to advise on Gran Cru coffees, machines and accessories.
Nespresso machines are priced from $179.00 to $299.00.
ETC for the Home, Bloomington's newest retail store, offers thousands of high quality products for the home, a working gourmet kitchen, cooking demonstrations and classes, and a staff of design and culinary experts.
Retail Store hours are Monday through Saturday, 10am to 6pm. For more information, call 812.369.3333 or visit http://www.etcforthehome.com.