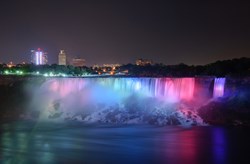 "For every busy airport we serve we have special deals created to match their exact needs."
Buffalo, NY (PRWEB) August 06, 2013
Greenbee Parking, an airport parking solutions company, has just announced great new discounts and deals for their customers who frequent the Buffalo (BUF) airport. Buffalo is the second most populous city in the State of New York after NYC. This easily gives an indication of how busy this airport keeps and the demand of parking space here. Till date travelers had to either put up with the steep fees or keep looking for various Buffalo Airport parking coupons so that they can cut down on their parking expenses whenever they travel. For frequent fliers it hasn't been easy, leading to rising discontent among them on this issue. Even with the coupons at hand the savings have been average at best since the deals offered do remain same or steady round the year. But now with the advent of service providers like Greenbee Parking and their innovative offers it just might be possible for travelers using the busy Buffalo (BUF) airport to save up 75% off parking expenses to that of the airport rates.
"For every busy airport we serve we have special deals created to match their exact needs," said Christine Cooper – Marketing Coordinator, Greenbee Parking. "With airports like BUF we know the demand and volume will be high so instead of working on the price every time we have devised special discounts and deals. In other words, we have come up with excellent deals which will make our customers so happy that they will never feel the need to look for Buffalo Airport parking coupons anymore."
Buffalo Niagara International Airport Parking Information
Buffalo Niagara International Airport is the busiest airport to serve upstate New York and is the third busiest airport in the State. Apart from catering to leisure and business travelers for New York and the neighboring states, it is also a popular choice for travelers flying in and out of Canada. Most of them use BUF as a preferred alternative to Pearson Airport in Canada. All in all, even for a mid-size airport BUF keeps super busy round the year. Despite several public transport options like the NFTA-Metro Bus and Rail, rental cars, buses and shuttles, limos and general taxis, as well as the Canadian Ground Transportation options, the demand for airport car parking has steadily risen over the years. The new discounts and cheap parking deals from Greenbee Parking now offer not just ample parking space but varied parking options at great prices which can lead to significant savings which can do away with all needs for Buffalo Airport parking coupons.
The Greenbee Airport Parking Solution
Greenbee Parking has effectively bridged the gap between parking problems and solutions at both airports and major seaports. They have tied up with major hotels for available parking spaces at discounted rates which they offer their customers across the nation who can now save almost 75% of their parking costs.
All they need to do is visit Greenbeeparking, select their city or airport of choice, choose the parking spot and pay through a secured payment gateway. There is a comprehensive list of airports and parking spots to choose from. Greenbee's wide network makes it possible for every customer who logs in to find a solution.
About Greenbee Parking
Greenbee Parking is the nation's most innovative long term parking company, with a new way of making long term parking affordable. The company is rapidly adding new airports to its network.