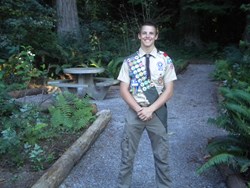 Aggregates West's donation together with all the volunteer workers made the Lincoln Park Picnic area possible. - Eli Jolly
Blaine, Washington (PRWEB) August 02, 2013
Lincoln Park now boasts its first ever picnic area. The new picnic area has freshly laid gravel trails that connect it to the northern parking area and the inner trails that loop through the forested scenery.
Boy Scout Eli Jolly demonstrated his leadership by meeting with City of Blaine representatives to discuss plans and then organizing community involvement to include a 14-yard gravel donation and delivery provided by Aggregates West of Everson, Washington. Eli rallied volunteer labor for the project from Boy Scout Troop 4022, members of the Church of Jesus Christ of Latter-Day Saints where Eli attends, and Karate Quest where Eli teaches martial arts, as well as from other community-minded individuals. Many people in the community came together to support this very worthwhile Scout project, and the bulk of the physical labor was completed in one day because of the strong turnout.
According to Eli Jolly, there were some delays in getting the project approved, as well as having all of the materials necessary to complete the picnic area. A big concern was the 14 yards of crushed rock that would be needed. Eli contacted several area gravel companies to ask for their support. Some declined and others indicated that they would consider it, but did not make any commitment. Eli persevered in seeking the donation and contacted Aggregates West. The management immediately said they would provide all 14 yards of the crushed rock and set up a delivery date for Eli to meet them at Lincoln Park.
Two precast concrete picnic tables, known for their low maintenance and longevity, are now in place at the picnic area; thanks to the City of Blaine. The tables are spaced in such a way as to provide moderate privacy for the picnickers in this beautiful tree-lined setting. The Lincoln Park picnic area will now provide another benefit to both local citizens as well as visitors to the City of Blaine. Furthermore, while many parks are assessing fees for their use, no fee exist for the use of Lincoln Park.
The City of Blaine had plans for a picnic area for several years. Local Boy Scout Eli Jolly contacted City of Blaine Community Planner Alex Wenger regarding possible service and leadership projects that could be performed that would benefit the citizens of the beautiful coastal town. Mr. Wenger suggested the picnic area, and Eli readily accepted the project. Boy Scouts are expected to plan, develop, and give leadership to others in a service project helpful to any religious institution, any school, or the community before being awarded their Eagle Scout, which is the highest rank awarded in scouting.
While being recognized for his efforts in creating this fabulous recreation area, Eli Jolly does not take the credit for himself but simply says, "Aggregates West's donation together with all the volunteer workers made the Lincoln Park Picnic area possible."