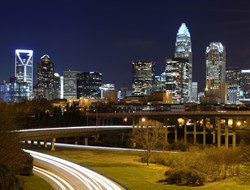 "We want to offer the best of services at the lowest prices, without jeopardizing quality."
Charlotte, NC (PRWEB) August 08, 2013
Greenbee Parking, a rising airport parking solutions firm, has just announced major parking deals and discounts for travelers using the busy Charlotte (CLT) airport. In their latest web upgrades the company has revealed a brand new set of Charlotte Airport parking rates which will allow their customers to avail ready parking space for incredibly low fees. The deals are so designed that both long term as well as short term customers can benefit from them though the percentage of savings will obviously be much higher for the frequent fliers. Charlotte is the perfect amalgamation of the north and south which makes it in turn an archetypal American city. It is also a major business which combines with its tourist footfalls to add to heavy air traffic round the year. This in turn leads to heavy ground traffic and rising airport parking needs for them. Greenbee Parking has consistently worked to provide a solution for the problem and have come up with several, all of which can now be readily found in their official website.
"We want to offer the best of services at the lowest prices, without jeopardizing quality," said Christine Cooper – Marketing Coordinator, Greenbee Parking. "Our team spent long hours studying the exact needs for the traveler using the Charlotte (CLT) airport before coming up with the new parking solutions and the cheap Charlotte Airport parking rates. We are constantly trying to improve our services and make better offers which we regularly announce though our web upgrades. Customers can easily keep track of these by visiting our website."
Charlotte/Douglas International Airport Parking Information
Nicknamed the Queen City, Charlotte is the largest city in North Carolina and the 17th largest in the United States. It is a major tourist hub and a getaway to other places of attraction in the state. In terms of assets, it is considered to be the second largest financial center after New York City and has been a major U.S. financial center for decades. The Charlotte/Douglas International Airport was the 6th busiest airport in the world in 2010 and the 9th busiest in the US in 2009. In 2012, it ranked as the 23rd busiest airport in the world in terms of passenger traffic. It is the largest hub for US Airways and connects with over 175 domestic and international destinations. These figures are a clear indication of how busy the airport is and the kind of pressure authorities here face for better airport parking. Greenbee Parking, which has already made quite a name for itself in providing innovative airport parking options, has now come up with easy solutions for CLT travelers as well. The incredibly cheap Charlotte Airport parking rates announced in their latest web upgrades promise to provide ample airport parking for their customers, even when booked at the last minute.
The Greenbee Airport Parking Solution
Greenbeeparking.com is the connection between consumers and parking vacancies in close proximity to major airports and seaports. The parking spaces are very affordable because the company has negotiated discounted rates with major hotel chains for the parking spaces that are not currently occupied. Here's how it works.
Greenbee Parking puts the available inventory of parking spaces on their website to be reserved by business and leisure travelers looking for cheap airport parking. This alternative method for finding parking equates to significant savings for the traveler.
About Greenbee Parking
Greenbee Parking is the nation's most innovative long term parking company, with a new way of making long term parking affordable. The company is rapidly adding new airports to its network.