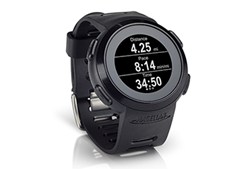 This is a unique spin on giving you control over your workout, your smartphone apps and music all from a wrist top unit
Bozeman, MT (PRWEB) August 02, 2013
Magellan Echo is a Bluetooth Smart compatible GPS runners watch that communicates directly with your Smartphone and is due out in the 4th quarter at Heart Rate Watch Company.
"This is a unique spin on giving you control over your workout, your smartphone apps and music all from a wrist top unit," says Rusty Squire, President of the Heart Rate Watch Company. He adds, "A tap screen allows you to advance the screen to see multiple pages of data and functions on the fly."
NO RECHARGEABLE BATTERY - HOORAY
"This watch doesn't have a bunch of power consuming sensors onboard so it uses a standard lithium coin cell battery that the user can replace and it does not have to be replaced that frequently," says Squire.
The Echo watch will be compatible with iPhone 4S, iPhone 5 and Android Smartphones using Bluetooth Smart. "Magellan will utilize the Wahoo Fitness API to drive integration with more than 100 fitness apps, including Strava, MapMyRun, Runtastic, and RunKeeper," says Squire.
"The Magellan Echo can display time and date without the benefit of the Smartphone but for fitness activities you have to bring the Smartphone along to have fitness features," says Squire. He adds, "It's the equivalent of Wahoo's RFLKT bike computer head unit which sells for $129 and needs a Smartphone to function."
UPSIDE/DOWNSIDE
"iPhone can't last longer than 1 1/2 to 2 hours in maps mode but the GPS can last a long-time with just an app mode for basic pace and distance", says Squire. He adds, "You could get a Polar Bluetooth Smart Stride Sensor for speed, distance and cadence."
PRICE
The Magellan Echo will cost $150 for the watch alone or $200 with a Bluetooth Smart compatible chest strap according to Squire.
"While Bluetooth Smart compatibility is nice, especially for bike computers, it still doesn't remove the need to tote the phone along if you want the apps," says Squire. He adds, "The reason the battery lasts so long is because the phone is doing the heavy lifting on processing."
MARKET
"The new Magellan Echo will be ideal for the more casual fitness enthusiast who likes to have their phone and music along for the ride," says Squire. He adds, "More serious athletes will likely still opt for the fully integrated GPS watch that does not require the iPhone come along, especially for runners, for cyclists its not a big deal because the weight is static."