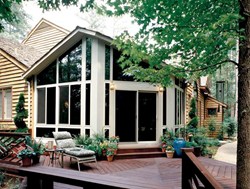 Miami, FL (PRWEB) August 01, 2013
The residents of Deerfield Beach like their sun, and they're showing it by doubling Venetian Builders, Inc., residential sunroom sales there in just the first half of 2013.
"Deerfield Beach has been a top ten market for us," said President Chris Noe, "But first-half sales there this year are especially gratifying. Our residential Deerfield Beach sunroom volume, just through the first six months of this year, has more than doubled our Deerfield Beach sales for all of 2012."
Deerfield Beach was the sixth-best market for Venetian in 2012. Broward remains Venetian's top county for sales volume.
Venetian designs and installs aluminum sun room additions, patio covers, patio roofs and screen pool enclosures in Palm Beach, Broward and Miami-Dade counties, and in the Keys. It markets direct to consumers and through 41 Home Depot stores in South Florida.
"Our performance in Deerfield Beach is one reason our sales are up 150 percent overall in 2013," Noe said. Venetian had increased overall residential sales 85 percent in 2012.
Noe said overall Venetian sales leads have almost doubled because of its recent retail presence. Its Home Depot displays, which Venetian fabricated from real building materials in its own shops, were placed in stores in late 2012 and the first quarter of this year.
"There's no doubt that more people are aware of us since the retail push began," he said.
Noe said Venetian appeals to a wide range of homeowners because it custom designs every project to fit an individual house, the neighborhood it's in and the homeowner's budget. "We don't use a cookie-cutter design approach," he said.
"That helps us match the proportions and lines of the house we're expanding. Homeowners like that. Our designs blend even better with a careful selection of options in window size and style; wall, ceiling and floor finishes; doors styles, including double-wides; and woodwork and cabinetry."
More businesses are recognizing sunrooms as an economical way to add space, Noe said, further multiplying sales.
Venetian estimates are free, detailed and written on all solariums, patio roofs, patio screens, pergola, lattice, retractable awnings and swimming pool screen enclosures. Free in-home consultations include a visit by the Venetian mobile showroom, which allows customers to view design and materials options right at their curb.
For more information, call 866-596-2427.