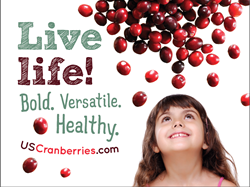 "We're taking advantage of this great opportunity to turn some heads and get people thinking about cranberries 365 days a year." -- Scott J. Soares, Executive Director, CMC
Wareham, Massachusetts (PRWEB) August 07, 2013
U.S. Cranberries are headed to the Big Apple's Times Square Plaza this summer to highlight the bold, versatile and healthy characteristics of a North American native and favorite fruit – the cranberry.
From August 7th through October 7th, 1.5 million visitors who pass through Times Square daily can catch a glimpse of a 15-second "Live Life! Bold. Versatile. Healthy." ad that will run 18 hours of every day. The ad is to be displayed on the 26'x20' CBS full-color, full-motion "Super Screen" positioned at 42nd Street between 7th and 8th Avenues.
"With cranberry production up, we're taking advantage of this great opportunity to turn some heads and get people thinking about cranberries 365 days a year," said Scott J. Soares, Executive Director of the U.S. Cranberry Marketing Committee (CMC).
Charged with promoting generic marketing programs both domestically and internationally, the CMC's "Big Cranberry" campaign is one of a number of new marketing efforts to introduce consumers to the epicurean versatility and health benefits of cranberries. Other initiatives include a recently introduced School Nutrition Toolkit for food service professionals and participation in international marketing events in Europe, Asia and Central America, most recently the 1st Great American Food Festival held in Shanghai, China.
"Dried, frozen, as juice or fresh, the cranberry's ability to enhance every USDA recommended food group is almost endless," added Mr. Soares. The "Big Cranberry" in the Big Apple is a great place for us to be considering that cranberries not only taste good with apples but also for the little known fact that cranberries are also grown in New York."
One of only three commercially cultivated native North American fruits, the primary cranberry growing states are Wisconsin, Massachusetts, New Jersey, Washington and Oregon. Cranberries are also grown in Connecticut, New York, Rhode Island, Minnesota, and Michigan. U.S. farmers produce more than three quarters of a billion pounds of cranberries per year from approximately 40,000 acres of bogs or marshes.
About the U.S. Cranberry Marketing Committee (CMC):
The CMC was established as a Federal Marketing Order in 1962 to ensure a stable, orderly supply of good quality product. Authority for its actions are provided under Chapter IX, Title 7, Code of Federal Regulations, referred to as the Federal Cranberry Marketing Order, which is part of the Agricultural Marketing Agreement Act of 1937, as amended. This Act specifies cranberries as a commodity that may be covered, regulations that may be issued, guidelines for administering the programs, and privileges and limitations granted by Congress. For more information about the CMC, visit http://www.uscranberries.com . Follow at http://www.twitter.com/uscranberries and http://www.facebook/cranbecravers.