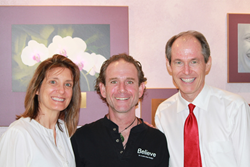 It brings my wife and I enormous joy to be able to help a patient and a friend in a time of need
Delray Beach, FL (PRWEB) August 02, 2013
On July 19, 2013, Rohrer Dental Wellness Center hosted the "Make a Wish, Lend a Hand" event, where they donated 100% of the proceeds of a day's worth of work to Make a Wish Foundation and to one of their existing patients, who was undergoing extensive medical treatment. All of the patients seen that day were in need of dental care and had financial difficulty affording it, so those patients who received care that day, received highly discounted fees on the services performed. Drs. Rohrer also accepted donations from their existing patients, and their friends. The goal: raise $5000 to give away to Drs. Rohrer's patient and Make a Wish Southern Florida.
About three months ago, one of Drs. Rohrer's patients and a dear friend suffered a very unfortunate accident where he broke his neck. After rushing to the hospital and the doctors assessing the situation, Sage was told that there was a chance he may not walk again. After two months of intensive recovery, physical therapy, and undergoing acupuncture and other alternative healing methods, Sage was walking, had great mobility and was completely off all the medications.
"I saw him at a restaurant a few months after the accident happened. I could not believe that someone that had recently broken his neck could be in such a good condition and spirits. Sage is a true example of will power", said Gonzalo, business manager at Rohrer Dental Wellness Center and a personal friend of Sage.
Unfortunately, right after Gonzalo saw him, the back specialist said that recovery could not be accomplished naturally and extensive surgery was needed. That was big blow to Sage and his wife, who had made tremendous efforts to get better in the most natural possible way. This also meant a huge hospital bill to pay: over $75,000 in out of pocket expenses. What ensued after is a story worth mentioning in the "Good News Network": in less than 20 days, and with the help of friends and colleagues, Sage and his wife were able to collect $17,000, the minimum amount necessary to get in the Operating Room. The remaining expenses were worked out with the hospital and his doctors, who agreed to give him a payment plan and to significantly reduce the costs of the operation.
When Drs. Rohrer learned of the situation, they thought they could pitch in by helping to pay off the first installment of the hospital bills due after the surgery. Through the "Make a Wish, Lend a Hand" event, Drs. Rohrer and their staff were able to donate a total of $3000 towards Sage's cause, and $1000 towards Make a Wish Southern Florida.
"It brings my wife and I enormous joy to be able to help a patient and a friend in a time of need. This would not have happened if it was not for the constant support we receive from our patients and staff," said Dr. Tom Rohrer, who had the original idea of helping these two causes.
Sage stopped by the dental office a few days back, and other than the scars from the operation, he looked like this accident never occurred. His energy and spirits are at an all-time high.
Although much was done to assist him on this unfortunate accident, he still needs further financial assistance to help pay for the hospital bills. If you would like to help Sage in any way, please contact Delray Dental Wellness Center directly at 561-265-1998 or by email at info(at)drsrohrer(dot)com. They will put you in touch with Sage directly.
For more information, please go to http://www.facebook.com/drsrohrer or visit our website at http://www.drsrohrer.com.
About Rohrer Dental Wellness Center
Established in 1987 in Delray Beach, FL by Drs. Tom and Joy Rohrer, Rohrer Cosmetic Restorative Dentistry combines traditional dental care with alternative therapy in the framework of whole body health. From veneers and laminates to porcelain crowns and teeth whitening, Rohrer Dentistry offers patients only the finest materials and biocompatible products. Where applicable, the practice also uses complimentary treatments such as diet counseling, deep relaxation, aromatherapy and natural detoxification. This integrated and holistic approach to dental care is performed in a comfortable, spa-like setting.