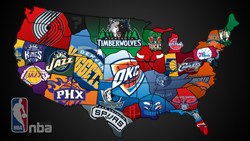 NBA fans can browse the 1,230 game-schedule and purchase tickets upon official release of the schedule at SuperStarTickets.com.
Arlington, VA (PRWEB) August 06, 2013
NBA Tickets can be found starting today with the 2013-2014 schedule officially being released. The full 2013-2014 schedule can be found attached to this article.
Eager fans have been waiting since the dramatic conclusion of last season's series, when the Miami Heat conquered over the San Antonio spurs in a stunning game 7 victory. The NBA has seen its fair share of jaw dropping trades, such as LeBron moving to Miami, James Harden to the Houston Rockets, and the powerhouse move of Dwight Howard and Steve Nash being relocated to the Lakers. This off season has been no different, with teams moving franchise players as if they were rookies. Kevin Garnett and Paul Pierce have made their way to the Brooklyn Nets, Andre Iguodala to Golden State, Dwight Howard ultimately deciding on relocating to Houston, and even Jason Kidd being named the head coach for the Brooklyn Nets. Needless to say, NBA tickets are in high demand.
NBA fans can browse the 1,230 game-schedule and begin purchasing tickets at SuperStarTickets.com, the source for incredible savings on NBA tickets. With the season just around the corner and with so much excitement surrounding the upcoming season, fans will want to secure tickets early before tickets sell out. The holiday season has an all-star match up between the Heat and the Lakers on Christmas Day, fans can buy Los Angeles Lakers tickets early for this Holiday matchup.
Questions still remain as to whether or not LeBron James and the Miami Heat will attain the illustrious "3-peat," or if the young Oklahoma City Thunder squad will have matured enough to win their first championship. Which is why SuperStarTickets is excited to provide NBA fans the opportunity to purchase NBA tickets today.