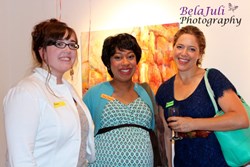 "I'm really looking forward to helping parents step outside of the box when it comes to finding awesome things to do with their kids in Washington, D.C." - Ayren Jackson-Cannady, Red Tricycle City Editor
Washington, D.C (PRWEB) August 06, 2013
(San Francisco, CA) July 24, 2013 – Red Tricycle, a digital city guide for parents launched its ninth local edition in Washington D.C. The San Francisco-based media company, delivers over one million email newsletters each week offering ideas for things to see, eat and do with kids to families in San Francisco, Los Angeles, Seattle, Portland, Chicago, New York City, Atlanta and SoCal, and has now pedaled into Washington D.C.
Red Tricycle's CEO and Founder Jacqui Boland says, "Opening our first edition in the heart of our nation has been incredibly fun for us. Washington D.C. has a unique style complete with a well-connected parenting community and we couldn't be happier with the tremendous support we have received from the Washington D.C. parent community."
To commemorate the launch of Red Tricycle Washington D.C., the city's most influential moms, dads, bloggers and business owners came together to celebrate on July 24 at Studio Gallery, the longest running artist-owned contemporary art gallery in D.C.
Event attendees included Sonya Gavankar, television personality, Mark Bildner of D.C. Metro Dads, Kristen Bocanegra, Founder/chef of Momme Meals, Neda Ghassevehl of Lil Omm Yoga Studio, Sharon Cichy, Founder of Liv Strategies, Yael Krigman, owner of Baked by Yael, Amy Miller, owner of Our Kids, as well as almost 100 local power moms, dads, and bloggers.
Ayren Jackson-Cannady, Red Tricycle's Washington D.C. City Editor and longtime media veteran adds, "I'm really looking forward to helping parents step outside of the box when it comes to finding awesome things to do with their kids in Washington, D.C. I'm also pretty stoked about sharing ideas—where to explore, eat, and play—with other D.C. moms, dads and kids who, like me and my little family, just want to have fun!"
For additional information about the launch events and activities, follow Red Tricycle on Twitter @RedTricycleDC and the Red Tricycle Washington D.C. Facebook page https://www.facebook.com/RedTricycleDC.
About Red Tricycle: Founded in 2010, Red Tricycle is a digital media company that provides authoritative, localized content (things to see, eat and do with kids in a city) to its growing online community of busy urban moms through a variety of communication devices: email, website, social media, RSS, mobile. Their mission is simple: To help parents have more fun with their kids. http://redtri.com/dc-kids/