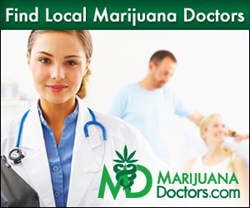 (PRWEB) August 13, 2013
New Hampshire's therapeutic marijuana legislation is a breath of fresh air and a step in the right direction, in regards to a true medicinal program. This topic opens concerns for local physicians who have to act as the gatekeepers to the state medical marijuana program, while being put in the awkward position of protecting that state from recreational abuse.
Fortunately, Doctors can utilize the technology platform of sites like http://www.marijuanadoctors.com, which provides all of the appointment calendaring, strict phone and online pre-qualification programs, as well as the state rules and guidelines which patients and physicians can reference. This platform is both web and mobile based, provides detailed reporting and also boasts a few other tricks that John B. Nicolazzo, the company COO, clued prospective individuals into.
Doctor shopping has become very problematic in America, while prescription narcotic abuse is at an all-time high. This is why New Hampshire has created strict eligibility and requirements. Patients must have at least a three month relationship with their doctor, an in-person exam, diagnosis, and a recommended treatment plan. Instead of prescribing this schedule one substance, physicians will simply be certifying to the state that the patient has an illness which could be aided by the drug and that their symptoms and ailments fit the requirements outlined by the state of New Hampshire.
Since marijuana is unsearched therapy, some doctors are confused in regards to the questions that may arise concerning dosage or expected impact.
"MarijuanaDoctors.com provides both a desktop application as well as a web-based system which enables each physician to totally customize their personalized experience working with our company," Nicolazzo explained. "This helps to establish the bona fide patient relationship, and the beginning of that physician expanding his or her practice. The mobile apps and symptom tracker creates a titration graph for doctors to quickly reference how this new therapy works for each patient, in regards to a respective ailment or specific strain."
So far, this company has been successful in helping hundreds of physicians and tens of thousands of patients to better understand a respective states' medical marijuana program. While exposure in the online sector has been widespread, the company's initial goals were to take advantage of the verification programs in certain states. This was done in the hopes of showing doctors that prescribing mobile apps can better an understanding of a patient's health. Smart phones provide the opportunity to obtain daily data points from simple tasks. These data points allow the doctor to monitor the daily health of the patient that is being caring for and helps establish a better doctor-patient relationship. MarijuanaDoctors.com also allows physicians and patients to take advantage of telemedicine portals, and even stores the video file through its partnership with E-Clinic MD into physicians' electronic health records.
"Since doctors had to answer calls from dispensaries each time a patient entered the facilities, it became a headache for the front end of the clinic's office staff. Doctors requested our company develops an automated system, which ultimately became our trusted IVR or Interactive Voice Response," Nicolazzo says.
"MarijuanaDoctors also uses a patient's driver's license number as a patient identification number, so that a more complex inventory management and POS system can simply swipe a driver's license, use a toll free number, or do an online check to insure the patient has a valid medical recommendation from his or her doctor. This provided our company the opportunity to create a reporting system which would remove a patient from passing verification and entering into a store if the patient didn't check in to report that the therapy was working. Marijuana is still a schedule one drug and our company figured that any time after medicating, if a patients' pain levels increase on our titration scales, automated emails would be sent to both the patient and physician. This enables both parties to immediately change the current course of medical treatment."
MarijuanaDoctors.com hopes to one day become a major provider of important medical marijuana data, providing this new and burgeoning medical treatment with the opportunity to be mined and studied using just a few easy key strokes. This compilation of informative data once took big pharmacy years and pharmaceutical testing, using millions of dollars. Now, it is being crowd sourced, created and stored every day in a way that gathers patient success in their respective state approved programs and allows a patient's physician to create scientific data, proving the success of medical marijuana. Will this information lead to the change of marijuana's scheduling? Can it refute the federal stance that marijuana has no medicinal value? Illinois and New York look to be the next states this company is planting its roots; with high hopes the industry plans for growth as does MarijuanaDoctors.com.
MarijuanaDoctors has also made it known that although the New Hampshire medical marijuana program will not be up and running for about at least an approximate year's time, the company does not want patients to become discouraged. Patients currently can fill out a brief area on the MarijuanaDoctors website in order to become enrolled on a New Hampshire medical marijuana wait list. Although a bona fide patient-to-physician relationship is necessary, once a doctor becomes enrolled into the MarijuanaDoctor's network, a patient may then start to fulfill the requirement of that relationship.