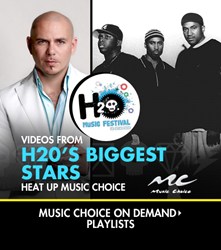 New York, NY (PRWEB) August 09, 2013
Music Choice, the multi-platform music video network, will feature a Univision H20 Music Festival playlist that highlights the performers who will appear at the H20 Music Festival August 17th in Los Angeles.
The playlist features Pitbull and A Tribe Called Quest, who are headlining the concert along with some of the hottest artists who will appear on stage including Prince Royce and Robero Tapia. It will be available for free nationally on Video On Demand.
Univision Communications Inc. is the leading media company serving Hispanic America.
Directional: Music Choice On Demand>H20Music Festival
Specific videos include:

Pitbull "Don't Stop The Party"
Prince Royce "El Amor Que Perdimos
Roberto Tapia "Mirando Al Cielo"
A Tribe Called Quest "I Left My Wallet In El Segundo"
For more information on Music Choice, log on to http://www.musicchoice.com or join the conversation on Twitter:@MusicChoice| Facebook:http://www.Facebook.com/MusicChoice