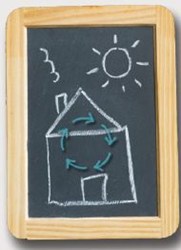 Getting a home energy audit before fall weather comes will ensure my comfort. - Carol, Seattle
Seattle, WA (PRWEB) August 06, 2013
If you're like most Seattle-Bellevue residents, keeping the family healthy is a top priority, especially once school starts. Many are surprised to know that the EPA and American Lung Association estimate that the air inside your home is anywhere from 7 to 100 times more polluted than the air outside.
Most homeowners have good, high efficiency air filters in their heating system. While these trap particulates, in many cases there is little impact to overall indoor air quality. According to energy assessment expert, Cory Tobin (Certified Energy Auditor from Washington Energy Services), "Air filters are one part of a larger solution. One of the main reasons homes can be unhealthy is due to the original construction."
When your home was built, many small holes were drilled to run all of the plumbing, wiring, skylights, TV and other cables as well as heating and air conditioning ductwork. Unfortunately all of these seeming small holes and cracks collectively equal a "gaping hole the size of a soccer ball," says Tobin. Imagine that hole in the living room!
This leaves many people breathing the air from your attic or crawl space as your primary air source. Tobin explains, "These holes create a direct air exchange between the attic and living space, allowing unwanted pollutants to circulate into the home and at the same time wasting valuable energy."
There is a solution, seal off all the holes and unwanted penetrations between the attic or crawl and your living space. "Homeowners expect this would be done that when the home was built but it wasn't the practice," Tobin explains. "One of the key factors in homebuilding is the cost of construction. Energy usage and indoor air quality has only come into consideration by builders in the past few years, as green living has become a factor in home value." As a result, people can wind up spending the unhealthiest part of the day, in their home.
How Do Contaminants Get Inside
When a house is built many small holes are drilled to run all of the pipes, wiring, TV and security cables as well as the heating and A/C ductwork.
Using the illustration to demonstrate the point, this creates a direct air exchange between an attic (the triangle) and living pace (the square,) allowing unwanted pollutants to circulate through the home and making it less comfortable.
The solution is easy, separate the square from the triangle by sealing holes and ductwork. The result will be a healthier and more energy efficient home.
"Getting started is easy," says Tobin. "The first step is a home comfort and energy assessment. Once people see how easy it is to make their home more healthy and energy efficient they are eager to get involved." The assessment, also known as a (home energy audit), is not just a walk through. Expect the auditor to be there for 3 hours conducting detailed tests and inspections. The assessment they perform gives homeowners the current health and energy efficiency of their home, and provides a clear plan for making improvements.
This service is normally $399 but Washington Energy Services is offering it for only $199 for the next 30 days. After they review their assessment reports, homeowners who choose to perform upgrades using Washington Energy Services may qualify to have their fee reimbursed. And depending on the needs of the home, there may be utility rebates and federal tax credits that can apply.
"Washington Energy Services is confident that homeowners who take advantage of this service will be delighted", says Tobin. He says that they have received great feedback on Angies list where this service earns them an A rating. Washington Energy has already made improvements to hundreds of homes.
Washington Energy Services is a leading provider of energy efficient home improvement products and services, serving western Washington since 1957. To get a $199 home energy assessment, click or call Washington Energy Services at 800-398-4663.