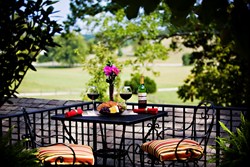 Each tasting is unique and we try to outdo ourselves with each and every tasting.
Paoli, IN (PRWEB) August 01, 2013
Luxurious Blueberry Hill Estate is a premier travel destination for residents of Indiana and tourists across the country. Famous for its picturesque views, upscale day spa services and various activities, the Estate stands out above the rest by featuring a unique wine tasting experience. By going well beyond the traditional small glasses with miniscule portions and a rowdy setting, Blueberry Hill Estate is a top choice for a wine tasting experience you won't soon forget.
The Estate directors work with expert chefs to prepare wine and food tasting menus that are unexpected yet welcomed by guest's taste palate. The directors take into account every aspect of the wine tasting practice from the setting down to the presentation and of course – the wines. Both international and local wines are brought to the table including full bodied Viogniers and smooth tasting Bordeauxs. Whether guests prefer whites or reds, they won't be disappointed by the fresh offerings of that day's wine tasting. Paired with wines are fresh, local selections ranging from smoked salmon canapé, shrimp bisque and roasted beet Roulade. Depending on what wines will be served, chefs often bring other, unexpected items to the table giving guests an out of this world tasting experience.
Perfect for a girls day out, corporate event, romantic date or even just a relaxing day trip with friends, guests can marvel throughout the Estate to appreciate all of its beauty. Tastings will start in the Estate's quaint carriage house where the first two tasting experiences await. Get acquainted with guests and then stroll through the decorated Estate house to a room fit for royalty with authentic and elegant décor for your next tasting. Finish the wine tasting on the Estate's hilltop which offers beautiful views of the rolling countryside and fields worthy of show on a postcard. Enjoy these locations privately with invited guests or mingle with other like-minded guests enjoying the property on day trips.
Looking to learn more behind the delicate process of wine? Chefs and tasting hosts are prepared to offer an educational experience on top of the overall tasting. Blueberry Hill Estate takes pride in a tasting that goes above and beyond guests expectations. Nothing less than the very best is presented to guests and each tasting is prepared with care. "We spend weeks tracking trending wines and working with providers to secure food items from premier sources. Each tasting is unique and we try to outdo ourselves with each and every tasting." One of the Estate's chefs quotes when asked about why Blueberry Hill Estate's wine and food tastings are so different than elsewhere.
Getaway from the daily stress and hustle of life to enjoy the Estate for the day. Come early before your wine and food tasting to relax in the outdoor day spa while getting a massage followed up by a signature therapeutic mud bath. The gorgeous weather calls for sitting poolside in your own cabana with drink service while indulging in that favorite new book. No matter how guests choose to spend their day at the Estate, by no means will they be disappointed. To book a wine tasting with the Estate, head to blueberryhillestate.com to schedule a call with an Estate Director. The sooner guests book, the closer guests come to an unforgettable wine indulgence without the high end ticket price.