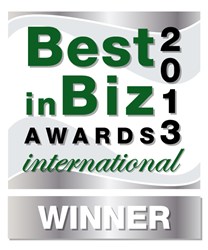 "We're proud to accept the Best in Biz trophy," said Boost President and co-founder Amit Mehta. "We've put in a lot of work listening to customers so that we can offer them a quality product. It's always nice to have that kind of hard work acknowledged."
Boston, MA (PRWEB) August 05, 2013
PC Health Boost's parent company, Boost Software, hit another milestone this summer when it took home an award from the Best in Biz 2013 International Awards.
The awards, presented to competitors from 25 different countries, recognized companies like Dell Software, Epson, Arkadium, Volusion, and Boost Software in several different categories. Boost was awarded the silver trophy for Best New Company.
"We're proud to accept the Best in Biz trophy," said Boost President and co-founder Amit Mehta. "We've put in a lot of work listening to customers so that we can offer them a quality product. It's always nice to have that kind of hard work acknowledged."
Mehta and business partner/co-founder Peter Dunbar spent a year and over $100,000 developing the PC Health Boost software. The software is designed to make slow computers run faster, as well as prevent computer freezes, computer crashes, and the infamous blue screen of death.
Earlier this year, they were also accepted as Microsoft Partner Gold in Application Development and as a Gold Vendor. Developers and vendors seeking Microsoft Partner certification must undergo a stringent review process to ensure their software is not harmful to PCs. In addition, they must have customer reviews and testimonials that are largely positive.
PC HealthBoost helps maintain the Windows registry and keep it free from Windows installer errors and Windows update errors. This registry acts like a virtual switchboard for the Windows operating system, telling programs what to do and when.
We are always looking for advertising and partnership opportunities and anyone wanting to meet with us may contact us here: http://www.boostsoftware.com/partner/, or inquire about writing a guest post for the blog may reach us using the contact link provided.
Boost Software, INC
Erin Walsh, Director of Public Relations
75 Arlington St. Suite 500
Boston, MA 02116