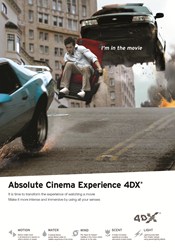 (PRWEB) August 01, 2013
CJ 4DPLEX, the world's first 4D cinema for feature films, today announced an agreement with top Croatian exhibitor Blitz-Cinestar to bring the all-five-senses immersive 4DX experience to several multiplexes across Croatia and region of ex-Yugoslavia. The deal, which will add to the current 58 4D theaters worldwide, was signed as a result of the growing availability of first-run movies available by top major Hollywood studios as well as the successful business model 4DX provides to exhibitors.
Blitz-CineStar has 12 operating multiplex with 83 screens and 14.377 seating capacity, including premium theatrical formats IMAX and Gold Class, and is developing new projects on several locations in the region.
"Blitz-CineStar continuously invests in the installment of the most up-to-date technology in all of its theater complexes. These are equipped in accordance with the latest standards, and we were the first in region to introduce digital 3D, eXtreme theatres, Auro 11.1 3D sound, IMAX and Gold Class formats. 4DX is another great cinematic experience that will indulge our customers, and give our theaters another exclusive and exiting note.", said Mr. Milinić, member of the board for Blitz-Cinestar.
4DX is an all-five-senses, immersive cinematic experience that puts audiences into a film's environment with motion, wind, fog, lighting and even scent-based special effects that go beyond 3D. Launched in 2009 by CJ CGV, the largest theater chain in Asia, Blitz-Cinestar joins a growing list of theater chain partners that include Cinepolis, one of the top three worldwide exhibitors in Latin America, Cinema City of Eastern Europe and Israel, Cinema Park in Russia, Major Cineplex Group in Thailand, Koronaworld in Japan and the latest Vieshow Cinema in Taiwan. Plans for U.S. theaters are progressing swiftly, with continued worldwide expansion to over 300 4DX theaters expected by 2015.
"The incremental revenue received by adding a 4DX equipped theatre helps exhibitors' bottom line, while providing a premium experience that cannot be duplicated at home." Said Byung Hwan Choi, CEO, CJ 4DPLEX. "Global exhibitors understand the power of adding a premium experience in a multiplex to provide a variety of options to its customers."