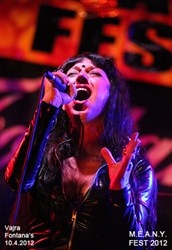 [I]f you'd like to lose yourself in rock-induced hypnosis, let Pleroma be your invitation.
New York, New York (PRWEB) August 01, 2013
NYC based progressive rock/East Indian quartet Vajra announced that they will play the Mercury Lounge in New York City this Saturday, August 3rd at 11:00PM. The band returns to the Mercury Lounge and will debut three new members.
Vajra's live show will feature members Annamaria Pinna (vocals), Eric Kuby (drums), Mark Collum (guitar), and Kevin Jones (bass). For the Mercury show, the band has set aside their multimedia installation in an effort to celebrate and focus on the music. "I can't wait for people to hear/see our live show. The new members bring a different, more lively energy to the performance. I certainly feel different," says Annamaria Pinna, Vajra founder and vocalist. "We are all really looking forward to introducing the new lineup with our fans."
Vajra's music is hauntingly dark and hypnotic weaving Eastern Indian themes with melodic, progressive rock creating foreboding and mysterious lullabies
The band is quickly generating a buzz after selling-out their first show in November, 2011 (at The Bowery Electric in NYC). Virgin America selected Vajra's single "Erode The Will" for their In-Flight Entertainment Series in December, 2011, and the single was also selected for the Red Gorilla SXSW 2012 Compilation and the Go-Girls Music Fest 2012 Compilation. The Band also was selected as a Supercuts Rock The Cut Ambassador. The band has played to sold-out audiences at: The Bowery Ballroom (NYC), The Mercury Lounge (NYC), The Bowery Electric (NYC) and also performed 2 shows at The Red Gorilla Music Festival and the Texas Rockfest down at SXSW 2012 and completed a successful West Coast tour in Summer 2012, performing at Sylvia Massy's 4&20 Blackbird Music Festival, The Bottom of the Hill in San Francisco and The Roxy in Los Angeles. Vajra also just signed licensing deals with Viacom, The Discovery Network, Showtime and Bravo.
Vajra continues to capture the attention of magazines and music blogs worldwide after the release of their debut album 'Pleroma'.
"Pleroma has it all: drama, emotion, moving power ballads, captivating lyrics and catchy rocks songs with just enough dark edge and pop hooks to ensnare new fans….Emotionally draining yet beautifully arranged. Sharp yet delicate. Raw yet soothing. Symphonic rock with an eastern twist, at it's most elegant level. Vajra's Pleroma is simply superb!" –Rick Jamm, Jamsphere Indie Music Magazine
"I instantly fell in love with this release. There are just some albums that send a chill up your spine and Vajra's debut Pleroma has achieved this effect.…Everything about this album is fresh and exciting. I live to experience music of this calibre. Vajra's musical career is just the beginning, and I have a feeling that their future work will be awe-inspiring." –Trystan MacDonald, Lithium Magazine
"[I]f you'd like to lose yourself in rock-induced hypnosis, let Pleroma be your invitation." -Sara Latourneau, Sonic Cathedral Magazine
"As I played Pleroma, the shadows in my den shifted. The grass in the back yard began to hum a blue/green low rumble. …Each song on Pleroma has its own life and color and ripples across sand mountains to orca-filled seas." -Lisa Waugh, Skallywag Magazine
For the show at Mercury Lounge, Vajra is co-headlining the late show. They take the stage at 10:45pm. Tickets are $12 Advance and $15 Day of Show. For advance tickets, email: vajratemple(at)gmail(dot)com.
So don't miss them at Mercury Lounge, 217 East Houston St, New York, NY 10002, this Saturday, August 3rd at 10:45PM (http://www.mercuryloungenyc.com).
For more about Vajra, you can visit their Facebook Page at: http:www/facebook.com/vajratemple.