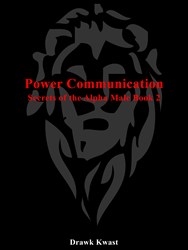 Las Vegas, Nevada (PRWEB) August 01, 2013
Drawk Kwast is known for helping the world's most hyper-competitive men dominate the competition at work, attract the most desirable women on the planet and ultimately achieve fulfilling lives. His second book, "Power Communication: Secrets of the Alpha Male Book 2," has guided thousands of men as they develop the unshakeable confidence necessary to negotiate million-dollar business deals and satisfy their sexual whims with supermodel girlfriends. The book's popularity has given it a place on Amazon's Kindle Gender Studies best-seller list.
Reviews on Amazon.com include:
"It was so refreshing to finally read a book that cut through the politically correct garbage and gets to what most guys have been trying to figure out for years. Drawk's second book, Power Communication delves into the details of how to bring your communication (in work and play) to that next level."
"This book is well worth its value. Drawk Kwast uses every word for full effect. If you are looking for a book to help you grow as a man from the core out, I highly recommend it. He improves verbal language, body language and one's perspective on the world to make the reader into a stronger man. Kwast does not lie to make the reader feel better or provide quick fixes."
"Most helpful guide to life I have read. Drawk helps you to become your true-self, that you never had the guts to be."
More information is available at:
http://www.amazon.com/dp/1479372706
Also available from Apple's iBookstore:
http://itunes.apple.com/us/book/isbn9780615811901
About Drawk Kwast:
Drawk Kwast is a living example of the modern-day alpha male. As an entrepreneur, martial artist and master of seduction, his methods have been called unconventional and even subversive. He makes no apologies as he teaches men how to dominate the competition at work, attract the most desirable women on the planet and ultimately achieve a fulfilling life. Forbes, USA Today, Details, Worth and Entrepreneur have all recognized his ability to transform clients' desires into reality. He offers a 60-day, Total Experience Immersion training program at a cost of $10,000.00 for those seeking the ultimate alpha male lifestyle.