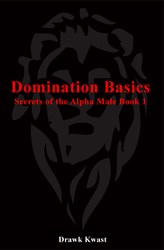 Las Vegas, Nevada (PRWEB) August 05, 2013
In a world that's been polluted with a "hug me, I'm a loser," attitude of complacency, "Domination Basics: Secrets of the Alpha Male Book 1" by Drawk Kwast stands as a beacon of masculinity. Its lessons on alpha male philosophy have been studied by young entrepreneurs on college campuses across North America and Europe. The book's global distribution and high sales volume have put it on a third Amazon best-seller list in the Kindle Science History & Philosophy category.
The book unapologetically defies politically correct ideology in favor of teaching the true path to money, women and power. Its ideas are hated by the masses and embraced by the successful. It resides in the same genre as the works of authors Ayn Rand, Charles Darwin, Friedrich Nietzsche, Niccolo Machiavelli, Richard Dawkins and Robert Greene.
More information is available at:
http://www.amazon.com/dp/1453801898
Also available from Apple's iBookstore:
http://itunes.apple.com/us/book/isbn9780615602417
About Drawk Kwast:
Drawk Kwast is a living example of the modern-day alpha male. As an entrepreneur, martial artist and master of seduction, his methods have been called unconventional and even subversive. He makes no apologies as he teaches men how to dominate the competition at work, attract the most desirable women on the planet and ultimately achieve a fulfilling life. Forbes, USA Today, Details, Worth and Entrepreneur have all recognized his ability to transform clients' desires into reality. He offers a 60-day, Total Experience Immersion training program at a cost of $10,000.00 for those seeking the ultimate alpha male lifestyle.