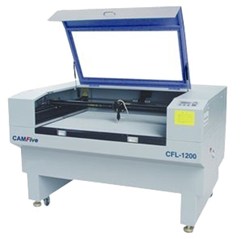 The CAMFive can handle a variety of materials for laser cutting
Hudson, MA (PRWEB) August 01, 2013
Grand Image Inc., the Massachusetts-based grand format printing company, now offers laser cutting and engraving in addition to its already expansive list of services. Laser cutting joins direct to substrate printing as the most recent services to be offered by Grand Image Inc., which join a host of existing services including dye sublimation and large format roll-to-roll graphics for billboards, banners, posters, and fabric graphics.
Grand Image Inc. has added the CAMFive Laser Cutter and Engraver for laser cutting and engraving. The machine is a 100 watt, high-end device that uses a super fine German lens that is known for producing unprecedented precision in cutting and engraving. The CAMFive Laser Cutter/Engraver has a work area of 47.25 x 23.62 inches and is suitable for large projects in any level of intricacy.
The CAMFive can handle a variety of materials for laser cutting, including foamboard, felt, cotton fabric, mixed fibers, cardboard, leather, cork, rubber, wood, and plywood. It can also handle a wide range of synthetics including lyrca, synthetic leather, plastic, and acrylic. Many of the same materials can also be engraved by the CAMFive, with additional materials that are able to be engraved including glass, crystal, ceramics, marble, onyx, tiles, and metal.
In addition to laser etching and engraving, the CAMFive also offers smooth edges on acrylic dimensional characters.
Grand Image Inc. is based in Hudson, Massachusetts and is a leader in large format digital printing. The company was founded in 1996 by Eli and Leah Luria and serves resellers of large format digital products.