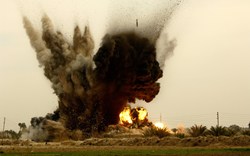 This would be monumental in treating tinnitus and high-frequency hearing loss.
Denver, CO (PRWEB) August 01, 2013
Some promising news on the horizon for our men and women in uniform. Researchers at the Stanford University School of Medicine recently published a paper that suggests long-term hearing loss caused by loud blasts or explosions may one day be reversible in humans.
The team's research disproved the previously held belief that a gross membranous rupture of the cochlea, the auditory portion of the inner ear, is an underlying mechanism of blast-induced hearing loss.
The finding has particular significance for veterans, among whom damage to the ear is a prevalent condition. More than 60 percent of U.S. service members who are wounded in action have eardrum injuries, tinnitus or hearing loss, or some combination of these, the study says. Twenty-eight percent of all military personnel experience some degree of hearing loss post-deployment. The most devastating effect of blast injury to the ear is permanent hearing loss due to trauma to the cochlea. But exactly how this damage is caused has not been well understood.
Despite initially setting out to develop an imaging technique to depict such ruptures as induced by blast trauma in mouse models, the researchers changed direction after realizing that loud blasts caused hair-cell and nerve-cell – but not structural – damage.
"When we started doing the experiments, we realized we weren't seeing anything. No [damage] was happening," said Professor of Otolaryngology John Oghalai, the study's senior author. "We were surprised by this finding."
The study's findings mark significant progress towards the goals of the Stanford Initiative to Cure Hearing Loss, a broader University endeavor, and may lead to the development of medications that could limit directly blast-induced damage to the ear. The researchers' efforts may also facilitate the creation of surgical techniques and drugs that could reduce any permanent cochlear damage.
According to Dr. Julie Prutsman, Au.D., FAAA, owner and founder of the Sound Relief Hearing Center in Denver, Colorado, "Using sound to regenerate the damaged parts of the cochlea is not a new concept, but new research is providing hope as to how we can repair the damage soon after loud noise exposure."
Reaching that goal, however, will necessitate overcoming the challenge of regenerating lost hair and nerve cells within the cochlea.
"Mammals do not regenerate their hair cells, probably because we developed specializations that allow us to hear much higher frequency sounds," Oghalai said. "There is a heavy research force working on this problem."
Sources:
*Source: PLoS One. 2013 Jul 1;8(7):e67618. doi: 10.1371/journal.pone.0067618. Print 2013
**Mechanisms of hearing loss after blast injury to the ear; Cho SI, Gao SS, Xia A, Wang R, Salles FT, Raphael PD, Abaya H, Wachtel J, Baek J, Jacobs D, Rasband MN, Oghalai JS.; PLoS One. 2013; 8 (7): e67618
About Dr. John S. Oghalai, MD
Dr. Oghalai specializes in hearing loss and tumors of the ear and temporal bone. He believes in working as part of a multi-specialty team to provide the highest quality service to his patients. He is also following a clinician-scientist pathway. About half of his time is spent caring for patients and the other half is spent performing research in the laboratory. He has published over 60 peer-reviewed papers and has had over 15 research grants to study hearing loss, many of them federally funded.
About Dr. Julie Prutsman, Au.D., FAAA
Dr. Prutsman is the owner and founder of the Sound Relief Hearing Center, a family-owned-and-operated audiology practice with a rich family history in the hearing health industry. Sound Relief Hearing Center offers a full range of diagnostic and preventative hearing health services, including tinnitus testing and treatment, hearing screening, evaluations, hearing aid sales, and rehabilitative and preventative counseling. For more information, visit their website. Follow them on Twitter and Facebook.