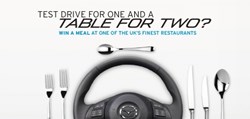 We are really excited to offer one lucky winner in Hampshire the chance to experience a surprising drive, fitting perfectly with Mazda's idea of customers having fun and getting involved
(PRWEB UK) 5 August 2013
To support Mazda's national 'Surprising Drives' campaign, launched this month, Hendy Mazda is running its own local prize draw, giving away an unconventional test drive in the all-new Mazda6, Mazda CX-5 and Mazda MX-5 to one lucky winner.
Following the same ethos as Mazda's national campaign, the Leigh Road dealership is encouraging existing and new customers to come and experience the 'surprise and delight' of a Mazda by test driving one of these three exceptional models.
Throughout August, test drivers will automatically be entered into a competition to win Hendy Mazda's own tailor-made unconventional drive around the local area.
One lucky winner will attend the Gourmet Surprising Drive at The Kennels(Goodwood) on Saturday 7th September 1:30pm. The prize is for two people to experience an exclusive test drive in the all-new Mazda6 and Mazda CX-5 on the UK's most thrilling roads, before sitting down to a delicious gourmet lunch.
"We are really excited to offer one lucky winner in Hampshire the chance to experience a surprising drive, fitting perfectly with Mazda's idea of customers having fun and getting involved," comments Dave Lawson, Sales Manager at Hendy Mazda. "The prize we are offering really captures the Mazda brand values of insightful, spirited and stylish. Book a test drive today in the all-new Mazda6, Mazda CX-5 or Mazda MX-5 to be in with a chance of winning!"
In addition to having the chance to win Hendy Mazda's fantastic prize, members of the public can also take part in Mazda's national competition which offers the chance to win an unconventional drive of a lifetime in one of three remarkable locations in Norway, Italy and LA. To find out more visit YouTube: http://youtu.be/Y3Q076eRYCs.
To enter, contestants are invited to take part in an online game in which they use an arm to grab a ball, the coloured balls match the different test drives so contestants can decide whether they want to try for the top prize in Italy, Norway or the USA. The game
can be played on desktops tablets and mobile phones, to play visit Mazda UK's own website (http://www.mazda.co.uk/surprisingdrives) or Facebook (http://www.facebook.com/MazdaUK).
For more information about the competition or to book a test drive and be in with a chance to win the dealership's prize, call 0844 2344653 or visit Hendy Mazda on Leigh Road, Eastleigh.
-Ends-
Information for Editors:
Hendy Group Ltd
Chandlers Ford Industrial Estate
School Lane
Eastleigh
Hampshire
United Kingdom
SO53 4DG
Telephone: 023 8027 1271
Fax: 023 8062 7539
Hendy Group Ltd is a premier family motor group with in excess of 20 premises stretching across Southern England from Devon to West Sussex.
Hendy holds Ford, Mazda, Kia and Honda franchises, plus Ford and Iveco van and truck franchises. The company handles all aspects including sales, servicing, parts, hire, accident repairs and Rapid Fit centres. Specialist operations include Liquid Petroleum Gas conversions, engine dynamometer testing, fuel injection testing and repairs, as well as engine sales to the construction and marine industries.
Hendy was founded in 1852 and whilst having grown to a company of significant geographical and economic size, the Hendy Group remains a closely-knit family concern. Currently, both the Chairman and Deputy Chairman are great-grandsons of the company founder F.A. Hendy, with the next generation of sons and daughters within the company structure ensuring the continuity of the family business.
Throughout the company's history, the Hendy family can be said to have followed good business practice - grasping opportunities as they've appeared, reviewing operations in order to remain efficient and keeping up with manufacturers' changing demands. Above all, the Hendy family has always been careful to continue to meet the needs of customers, ensuring that they enjoy the best service and attention at all times.