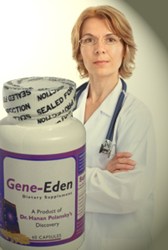 As these studies indicate, disease and health problems all seem to develop faster as aging and latent viruses combine to form a vicious cycle. - Mike Evans, polyDNA
Rochester, NY (PRWEB) August 01, 2013
Aging and latent viruses join forces in a vicious cycle. Aging decreases the efficiency of the immune system. As a result, the concentration of latent viruses increases. This further decreases the efficiency of the immune system, which in turn, increases the numbers of latent virus, and on and on until death do us part.
One major player in this vicious cycle is the Cytomegalovirus (CMV). polyDNA suggests killing the latent CMV with an effective antiviral remedy, such as Gene-Eden-VIR, to break the vicious cycle.
"Persistent cytomegalovirus (CMV) infections … have been found to increase immunosenescence. (1)" Immunosenescence refers to the gradual deterioration of the immune system brought on by aging.
Another study showed that the highest levels of CMV were "found in frail older people" and "among seropositive non-immunocompromised individuals. (2)" In other words, CMV was found in high levels among older, relatively healthy individuals, and the presence of the virus was making them weak!
"As these studies indicate, disease and health problems all seem to develop faster as aging and latent viruses combine to form a vicious cycle. Obviously, one cannot do much about aging, but can certainly break the vicious cycle by fighting latent, viral infections." – Mike Evans, polyDNA
In light of the studies mentioned, older people should take Gene-Eden-VIR, a natural CMV remedy to help the immune system clear the virus from their bodies. Once clear of the virus, the risk of developing health problems decreases.
Gene-Eden-VIR is designed to fight against the latent CMV. A recent post marketing clinical study showed that Gene-Eden-VIR is safe and effective. Up to 70% of those studied reported a decrease in viral symptoms. (3)
Each ingredient of Gene-Eden-VIR was chosen through a scientific approach. Scientists scanned thousands of scientific and medical papers published in various medical and scientific journals around the world to identify the safest, most effective natural ingredients that target the latent form of CMV. (4)
To learn more about Gene-Eden-VIR, visit http://www.gene-eden-kill-virus.com. All orders of Gene-Eden-VIR are completely confidential, and no information is shared or sold to any third party. Privacy is assured.
References:
(1) http://www.immunityageing.com/content/pdf/1742-4933-10-30.pdf
(2) McVoy MA, Adler SP: Immunologic evidence for frequent age-related cytomegalovirus reactivation in seropositive immunocompetent individuals. J Infect Dis1989, 160:1–10.
(3) cbcd.net/Gene-Eden-VIR-Clinical-Study.php
(4) buygeneeden.com/studies.php
polyDNA is a biotechnology company that develops dietary supplements using the unique scientific method developed by Dr. Hanan Polansky, which is based on Computer Intuition.
In addition to his unique scientific method, Dr. Polansky published the highly acclaimed scientific discovery, called Microcompetition with Foreign DNA. The discovery explains how foreign DNA fragments, and specifically, DNA of latent viruses, cause most major diseases.
polyDNA developed Gene-Eden-VIR , an antiviral natural remedy that helps the immune system kill latent viruses.