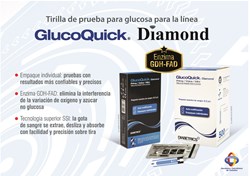 BARRANQUILLA, Colombia (PRWEB UK) 20 August 2013
Procaps S.A DIABETRICS in Colombia launches new line of GDH-FAD blood glucose test strips - GlucoQuick-Diamond™. The individually wrapped strips provide less risk of contamination and high levels of biosecurity for hospitals and point-of-care locations and thus ensure accurate and reliable results.
Procaps' GlucoQuick™ strips prevent falsely elevated readings by using advanced flavin-adenine dinucleotide, a co-enzyme that does not interfere with varying oxygen contents and can distinguish between glucose and non-glucose sugars, such as maltose and galactose.
The unique individual packaging of GlucoQuick - Diamond ™ GDH-FAD strips enables high efficiency and a low wastage rate as well as reduced risk of contamination (the strip has little exposure to oxygen and other environmental contaminants factors that may alter the effectiveness of the strip during handling prior to testing) translating into lower costs.
Traditional vial packaging for test strips hold multiple strips (typically with 25 strips per bottle) subjecting the strips to oxygen exposure and increasing humidity and environmental pollutants that may diminish the effectiveness strip.
For hospitals and point-of-care, GlucoQuick - Diamond ™ GDH-FAD is the best choice for blood glucose testing because the individual packaging ensures reliable results with less waste, contributing to more effective and efficient inventory management with better cost control. Additionally, health professionals involved in testing may experience a higher level of biosecurity.
GlucoQuick - Diamond ™ GDH-FAD strips are available for sale in individual packaging:

Box of 500 strips for use in hospitals and points of cares
Box of 50 for sale in retail chains
For more information and product availability, please contact:
http://www.diabetrics.co
http://www.circulodelavida.co
free online 018000522277
About Procaps:
Started in 1977 as a family-owned business, Procaps Group has become a well-established corporation with 3,000 employees and operations in the Andrean Region, across Central America and the Caribbean and with a reach across 10 countries in Latin America and 35 countries worldwide, Procaps develops, manufacture and promotes pharmaceutical products, veterinary, nutritional supplements, and cosmetics, as well as promotes and distributes licensed products such as implants and prosthesis. Procaps' product portfolio covers more than twelve therapeutic areas offering premier products for critical and chronic diseases, powered by individual sales forces reaching entire specialty areas specialists within these therapeutic areas and a majority of key opinion leaders. Procaps Group has projected sales in the United States for 2013 of $400 million and expects to enter the U.S. prescription market via strategic alliances with U.S. based companies with products under registration with the FDA. For more information, visit: http://www.procapslaboratorios.com
Media Contact:
Julieth Velandia
Barranquilla - Colombia
Phone number: +570 18000 522277