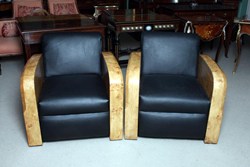 More than simple armchairs, these excellent examples of Art Deco design are sure to be a talking point amongst friends and family
London, Greater London (PRWEB UK) 1 August 2013
Leading UK furniture dealer Regent Antiques discuss the highlights of their timeless Art Deco range and explain why these pieces never go out of fashion.
Regent Antiques, one of the UK's premier furniture dealers currently offers a wide range of fine Art Deco furniture, sourced from around the globe.
As Art Deco antiques specialists, the company understands the great demand for furniture pieces in the deco style and they work hard to maintain their expansive offering.
One could say that Art Deco furniture for the home or office was enjoying a resurgence but the truth is that never really went away. Its enduring popularity could be down to its timeless allure. Art Deco furniture works just as well with modern interior design as it does with classic styles in older properties.
The Regent Antiques collection includes wooden furnishings in maple, walnut and rosewood to name a selection. But it also features some fantastic examples of mirrored furniture and other Art Deco objects, from desk lamps, clocks and statuettes, to perfume bottles and cigarette holders which hark back to a period of glamour and refinement.
Highlights of the current Regent Antiques Art Deco collection include the Black Leather & Birdseye Maple Armchairs. This stunning pair of armchairs was handmade by Italian craftsmen, veneered in bird's eye maple and then French polished. More than simple armchairs, these excellent examples of Art Deco design are sure to be a talking point amongst friends and family.
The fabulous Mirrored Chest of Drawers is also available in a pair. With its smooth, straight lines and simple design, the chest is a perfect example of mirrored Art Deco. The chest's four drawers feature faceted glass knobs. The set is ideal for living areas and bedrooms, but also an office or avant garde bar/restaurant.
A range of Art Deco statuettes are available, none more elegant and beautiful than the Bronze Hoop Dancing Girl in the manner of Alonzo. The piece even bears and replica maker's mark and foundry mark of the famous French sculptor. The breathtaking attention to detail has to be seen to be believed.
Explore the entire Art Deco collection online at Regent Antiques today, in addition to an array of dining sets and furnishings in other beloved styles.