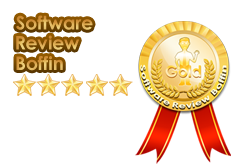 The review concluded that this re-evaluation process does not signify the end of DVD copy reviews for Boffin.
New York City, NY (PRWEB) August 06, 2013
Software Review Boffin, a renowned software review site, believes that information provided to users must be relevant. This particular mission of the review site has often resulted in the team to re-evaluate the top products in various categories in order to ensure that they are still one of the best software available within the industry.
Software Review Boffin re-examined the top three products within the DVD copy software category and the DVD copy software reviews published at the Boffin website today reveal that Leawo DVD Copy continues to hold the first position despite changes within competitive forces. The team announced DVD Copy 6 Plus and Aviosoft DVD X Player at the second and third place respectively.
Boffin review team believes that DVD copying software must allow users to replicate the original DVD with ease while offering the same picture quality. The team elaborated that the distinct quality attributes of DVD software include the ability to copy with relative ease and support a range of formats.
The team believes that the top three products easily satisfy the criterion laid by the expert reviewers. The reviewers hold that Leawo DVD Copy can be stated as a perfect choice for users due to its features that allow high picture quality while also ensuring ease of use and friendly interface.
DVD Copy 6 Plus was awarded the second position and the review stated that the software is "great" as it does not only allow users to perform DVD comprehension with relative ease but also offers high levels of flexibility. Lastly, the team believes that the distinct advantage that has allowed Aviosoft DVD X Player to grab the third position is the fact that it is the first software that is region-free.
The review concluded that this re-evaluation process does not signify the end of DVD copy reviews for Boffin. Rather the products will once again be re-evaluated in the nearby future. Up gradations within equipment and introduction of innovative features by competitors can result in the placement to change.
Software Review Boffin reviews the latest technological products in demand on the market right now. They provide expert, honest and straightforward reviews so customers can objectively measure if a product, especially software is well worth it before making their purchase.
To learn more about Software Review Boffin visit http://www.softwarereviewboffin.com.