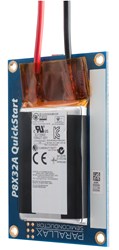 Polyonics double coated tapes are strong, thin bonding systems that eliminate mechanical fasteners and help prevent the propagation of fire in battery assemblies.
Westmoreland, NH (PRWEB) August 06, 2013
Polyonics XT-657 halogen free flame retardant double coated bonding tape provides a bonding system that eliminates the need for mechanical fasteners while helping to prevent the propagation of fire (see video at right). The UL94 tested and VTM-0 rated tape creates a thin, conformal bond line and has an adhesive strength of greater than 32 oz/in (> 35N/100 mm). In addition, XT-657 has a high dielectric strength (>7.6kV/mil) that provides electrical separation between circuits plus is an excellent thermal insulator that is rated for 572F (300C).
The engineered tape has proven effective in bonding applications in a wide range of industries. These include attaching batteries, devices and components in space-constrained consumer electronics (smart phones, tablets, etc.) as well as in industrial electronics, power systems and batteries. Shown at right, a Li-ion battery is bonded to a PCB using the Polyonics flame retardant XT-657 tape while the edges of the battery case are sealed using Polyonics XT-708, a single coated antistatic and flame retardant matte black polyimide tape. In addition, the PCM circuit, at the end of the battery, is also isolated with Polyonics XT-624, a single coated flame retardant amber polyimide masking tape.
Tape Construction
The REACH and RoHS compliant tape includes a 1 mil (25 µm) polyimide film, two layers of 1 mil flame retardant acrylic pressure sensitive adhesive (PSA) and a variety of liners that aid in handling, die-cutting and auto-application (see illustration far right, top). The tape can be configured with different PSAs to best match the surfaces the tape will be affixed to as well as the converting process.
The Polyonics XT-657 engineered tape remains dimensionally stable at high temperatures, is resistant to the typical chemicals used in PCB manufacturing and designed to remain effective throughout wave solder and reflow processes. The tape also complies with the aerospace FAR 25.853 and BSS 7238/7239 smoke and toxicity standards.
FlameGard
Polyonics flame retardant tapes are designed using FlameGard™ technologies that help prevent the propagation of fire through a series of chemical mechanisms that actively retard the burn cycle (see combustion diagram far right, second from top). These flame retardant mechanisms include resins and polymers that are dimensionally stable plus don't generate significant amounts of flammable gasses when exposed to heat and flame. In addition, upon initial combustion, the tape creates a char layer that acts as a heat shield (a physical mechanism) slowing the rate of thermal oxidation and reducing thermal degradation.
About Polyonics
Polyonics manufactures high performance single and double coated tapes, label materials, films and flexible substrates in its Westmoreland, NH factory. The high quality materials are used by specialty die-cut converters and OEMs worldwide. The ultra-thin polyimide, PET and aluminum materials are designed expressly for high temperatures and harsh environments plus provide flame retardant and static dissipative performances for electronics, automobile, aerospace and medical components.
For further information and to receive complimentary samples of the XT-657 or other Polyonics single or double coated engineered tapes, please contact Dave Genest at 603.903.6327 or tape(dot)expert(at)polyonics(dot)com.