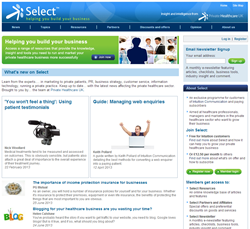 A one-stop-shop for finding information, advice and expert guidance on a huge range of topics.
London, United Kingdom (PRWEB UK) 5 August 2013
Private healthcare businesses - hospitals, clinics and individual consultants and specialists - now have online access to expert advice on moving their business forward - advice on attracting new patients, monetising their existing client base, and on legal, accounting or practice management issues.
A new online resource, Intuition Select, provides a one-stop-shop for finding information, advice and expert guidance on a huge range of topics, especially written for those working in the private healthcare sector. Users can access an online knowledge base, or seek help directly from the experts to work on a specific problem.
Intuition Select contains articles from experts covering topics as diverse as marketing, using social media to engage with patients, insurance, outsourcing, time management, training, accreditation and PR. All articles have been provided by industry experts and opinion leaders in their field and are written exclusively for the Select site and specifically for those working in private healthcare businesses; all are relevant, up to date and genuinely useful, not just a thinly veiled sales message.
Intuition Select comes from online medical publishers Intuition Communication (http://www.intuition-communication.co.uk) who own and run leading online brands including Private Healthcare UK, (http://www.PrivateHealthcare.co.uk), HarleyStreet.com (http://www.HarleyStreet.com) and Treatment Abroad (http://www.TreatmentAbroad.com). This business pedigree means users can be sure the information on the Select network comes from trusted and reliable sources and is curated by some of the leading figures in the private healthcare sector.
Keith Pollard, Managing Director of Intuition Communication, says the service has been developed in response to client needs in an increasingly competitive market for private healthcare:
"Our customers in the private healthcare sector range from individual healthcare professionals and specialists, managers of private clinics and hospitals around the world and major companies involved in the provision of healthcare and health insurance. We're regularly asked to answer business questions or recommend suppliers of business services."
"We want to share the knowledge, insight, resources and contacts that we've built up over the years with our customers to give them competitive advantage in an increasingly competitive market for healthcare services both in the UK and internationally. We also want to encourage others who provide services to a similar client base to do the same, and share their knowledge and expertise with Select customers."
Membership of Intuition Select is free to all Intuition customers or available as a stand-alone service for a monthly fee of £12.50 per month. For further details, see http://www.selectnetwork.co.uk or call +44 (0) 1442 817817.
ENDS
For all media enquiries including interviews, images and journalist access to Intuition Select, please contact Steve Bustin on 07803 729208 or steve(at)vadamedia(dot)co(dot)uk.
About Intuition Communication
Intuition Communication is an online publishing business in the healthcare sector in the UK. The company's aim is to help people to make a more informed choice of private healthcare services by providing information that is independent, up to date and enables comparison between different services and service providers. Intuition manages a network of websites in the healthcare sector, including Private Healthcare UK, the Harley Street Guide and HarleyStreet.com.